RAF destroys Libyan weapons stash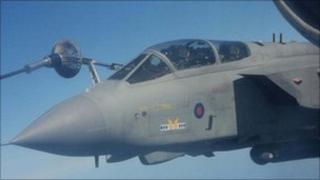 UK forces destroyed a former grain farm in Libya which was being used to hide rocket launchers, as the Nato campaign against Col Gaddafi continues.
The Ministry of Defence they had been "very active," particularly focussing on the wider area around Misrata.
Nato said its warplanes conducted 112 air missions on Saturday, with 5,485 in total since the action began in March.
The RAF is involved in enforcing a no-fly zone over Libya under UN Security Council Resolution 1973.
Its aim is to protect civilians using "all necessary measures" short of a ground invasion.
Maj Gen Nick Pope, the Chief of the Defence Staff's communications officer, said: "British forces were once again very active over Libya on Saturday."
RAF Typhoon and Tornado aircraft attacked the former farm, which was a base for multiple rocket launchers.
He said RAF reconnaissance patrols located and destroyed a battery of four howitzer artilleries which were threatening Misrata. A field gun was located and destroyed near Mizda.
HMS Liverpool fired at Col Gaddafi's forces on the coast at Zlitan, he added.
Meanwhile, Libyan rebels are continuing to make progress as they battle west from Misrata towards the key town of Zlitan, on the road to Tripoli.
After more than six weeks of stalemate, the rebels have in recent days pushed back the forces of Col Gaddafi, despite rocket and mortar fire.
The UK's role in military operations against Col Gaddafi's regime is expected to cost £260m.
The government will not provide a full breakdown, but splits the figure into £120m operational costs and £140m to replace the munitions fired over six months, if the Nato-led mission lasts that long.