UK terror threat level reduced to 'substantial'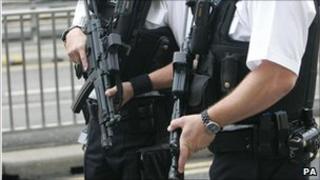 The UK terror threat level is being reduced from "severe" to "substantial", the home secretary has announced.
The new alert level means the risk of a terrorist attack is considered to be a "strong possibility" and "might well occur without further warning".
Theresa May said: "The change in the threat level does not mean that the overall threat has gone away.
"There is still a real and serious threat to the UK and I would ask the public to remain ever vigilant."
She said the decision to downgrade the terrorist threat level was made independently of ministers by the Joint Terrorism Analysis Centre (JTAC) and was based on the very latest intelligence, considering factors such as "capability, intent and timescale".
The threat level last changed in January last year where it was raised to "severe".
The threat level is under constant review and can change quickly in response to events.
It was first made public on 1 August, 2006, when it was set at "severe".
The level was then raised to critical ten days later after a series of arrests over an alleged plot to blow up a transatlantic aircraft.
It was lowered to "severe" again the following week.
The threat level was last set at critical in June 2007, following the attack on Glasgow Airport and the failed car bombings in central London.
BBC home affairs correspondent June Kelly said the threat to the UK comes from both Islamist extremists and Irish dissident groups.