UK Libya troops to get operational pay, Liam Fox says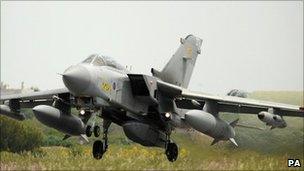 British troops serving in Libya are to receive the operational allowance (OA), Defence Secretary Liam Fox has said.
The move means UK forces operating in Libyan airspace and territorial waters will be paid an extra £29.02 a day, tax free, backdated to the start of military action in March 2011.
Dr Fox said it was important to "recognise and reward" those "engaged in the very highest areas of conflict".
It comes after UK helicopters struck Col Gaddafi's troops on Tuesday.
Major General Nick Pope, the chief of the defence staff's communications officer, said the British helicopters - which had targeted three vehicle check points - had destroyed four military buildings and seven vehicles in western Libya in the attack.
"At each check point, military vehicles and structures were identified and successfully engaged using Hellfire missiles and cannon fire, as well as infantry positions," he said.
The MoD already pays the allowance to British troops serving in Afghanistan.
UK servicemen and women involved in the Nato mission enforcing a no-fly zone over Libya, aimed at protecting civilians, will be paid the extra money from the Treasury Reserve.
Dr Fox said: "Eligibility for the operational allowance reflects the rigour and risk of the operation in question and I am delighted that we can now extend these payments and recognise more of our brave servicemen and women in this way."
Pilots and air crews carrying out missions over Libya, and the crews of ships and submarines operating within 12 nautical miles of the coast, will receive the payment for each day they serve in these areas.
The Ministry of Defence conducts a review of the locations eligible for operational allowance on a six-monthly basis.
Since 6 May 2010, the OA has been doubled from £14.51 per day to £29.02 per day, fulfilling a pledge made by the coalition government.
UK forces have now damaged or destroyed more than 600 targets in Libya since the start of military operations on 19 March.
The MoD has not released figures on military or civilian casualties.
The European Union imposed a travel ban on Col Gaddafi and his close entourage in February. It followed his regime's violent response to an uprising against his 41-year rule.
Col Gaddafi is wanted by the International Criminal Court for alleged crimes against humanity following "widespread and systematic attacks" on civilians.
Related Internet Links
The BBC is not responsible for the content of external sites.