Briton Robert Sebbage dies after stabbing in Greece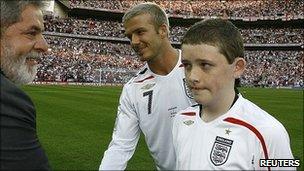 A British teenager has died after being attacked by two taxi drivers on an island in Greece, local police said.
Robert Sebbage, 18, from Tadley, Hampshire, who was an England football team mascot in 2007, was reportedly stabbed on the island of Zakynthos.
Local police said a group of Britons were attacked, leaving one dead and four injured - one seriously.
Two Greek taxi drivers, aged 21 and 25, are charged with murder and complicity to commit murder respectively.
The attack is thought to have happened in the early hours of Wednesday at the Laganas resort on the island, also known as Zante, where Mr Sebbage had been with a group of friends.
His family said in a statement: "All these young men are very close friends. They are all 18 years old and all went to the Hurst School together - some went on to college together, some into work.
"They are simply just a bunch of nice lads and this is their first holiday abroad and they had all gone just to enjoy themselves."
Jacques Tibbels, 18, from Marlow, Buckinghamshire, arrived at the scene after the stabbings had happened along the main strip of bars and clubs.
He told the BBC: "As we peered through the crowd we saw a boy on the floor with a cut into his abdomen area, ripped through his T-shirt, and a lot of blood."
Mr Tibbels said a second victim was "covered in blood" and a third man held what looked like tissues or cloth to wounds on his back.
"It was frightening because you think when you're here in Zante everyone's here to have fun.
"Yes you expect to see maybe a fight once in a while in Zante because of all the intoxicated youths, but you don't expect to come back to your hotel to find three boys stabbed and wounded on the floor."
In 2007, Mr Sebbage was chosen as a mascot for the England football team in a friendly against Brazil at Wembley and posed for photos next to David Beckham.
Aged 14 at the time, he was picked by the Rays of Sunshine charity because he suffered from a bowel disorder called Eosinophilic colitis and gut dysmotility.
The condition meant he suffered from horrendous stomach pains and sickness and had to have part of his intestine removed.
In his letter to the charity, Mr Sebbage, who played for Tadley Calleva Youth Football Club, wrote: "I love football; my life has always revolved around it.
"I used to play every day at school and was once good enough to have trials at county level.
"Playing football made me feel alive. I feel angry, frustrated and depressed that I can no longer take part in the one thing I love.
"However, I will never give up on supporting England. It would be a real dream come true for me just to wear the England kit and walk out of that tunnel as a mascot for my team."
Friends have created a tribute page on Facebook to the teenager, who listed his interests on his own page as being a keen fan of Reading FC and the bands Oasis, Kasabian and Kings of Leon.
A local police spokesman said two Greek taxi drivers had been "involved in an argument" with a group of foreign nationals, "resulting in a physical confrontation".
He said: "A 21-year-old taxi driver attacked and injured five British nationals, one of whom suffered fatal injuries."
The Foreign Office said it was in contact with the families of those involved and was providing consular assistance.
Related Internet Links
The BBC is not responsible for the content of external sites.