Cardiff cabbie Adam Derbi's tip wins Euromillions £1m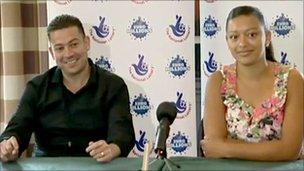 A taxi driver father-of-five picked a £1m Euromillions winning lottery ticket with the cash he was handed as a tip.
Adam Derbi, 35, from Cardiff, bought three tickets for last Friday's draw with the £6 he was given by a customer.
He plans to move with his wife Naphtalia, 30, and their four daughters and a son from their rented terraced home to a larger property in the city.
He has not yet decided whether to give up work, and said: "You never know, I might get another great tip."
He added: "I don't know who the customer was but I can't thank him enough."
The lucky tip even landed Mr Derbi a second win - an extra £5.10 that was added to his winnings cheque.
Mr Derbi, whose children age from two to 13, drives a six-seater taxi for city firm Capital Cabs at least five days a week.
He said: "I don't get many good tips these days because everyone is finding money tight.
"But I had a £6 tip last Friday and decided to try three lines in the Euromillions draw just for fun.
"I can't believe I'm now a millionaire because of that tip.
"I spotted the fiver first but then I realised it was a million pound as well. I couldn't stop shaking. My wife didn't believe me at first."
His Euromillions Millionaire Raffle win came as a single UK ticket won the £161m Euromillions jackpot, Europe's biggest-ever lottery prize.
Mr Derbi said he did not envy whoever has scooped the cash.
He said: "It is a colossal amount of money to deal with. I hope whoever has won it can enjoy it - I know I will make the most of my million.
He said he planned to bank as much could to "give security and a decent start in life for our children".
He said: "What with university fees and the expense of bringing up children, we will be looking after our money.
"But I'll be making plans for the children to have deposits for a house when they are old enough.
"It's just great that we've been given the opportunity to give our children a solid start in life."
Related Internet Links
The BBC is not responsible for the content of external sites.