Two prisons to shut in efficiency bid, MoJ says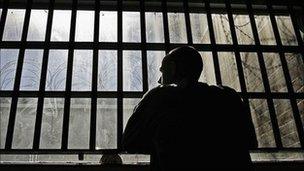 Two prisons are to be closed, and eight more privatised, under plans announced by the Ministry of Justice.
Justice Secretary Kenneth Clarke said Latchmere House prison, in west London, and HMP Brockhill, in Worcestershire, will close in September.
HMPs Lindholme, Moorland, Hatfield, Acklington, Castington, Durham, Onley and Coldingley will also be put out to tender in the autumn.
The decision is "to balance the need to increase efficiency", the MoJ said.
The Wolds prison in Yorkshire, currently run by security firm G4S, will also be put out to competition in the autumn when it comes to the end of its current contract.
The MoJ has to make savings of almost 25% in its budget as part of the government's public spending plans.
In a statement, the MoJ said the closure of HMP Latchmere House and HMP Brockhill would see a reduction of 377 prison spaces - and provide cost savings of £4.9m this year, with an on-going annual saving of £11.4m.
It said all the prisons - which were selected by the National Offender Management Service - were chosen "on a wide range of criteria including the potential for efficiency improvements, service reform and innovation, not on the basis of poor performance".
Changes resulting from the "competition and capacity announcements" will not compromise public safety or reduce the quality of services, it added.
Mr Clarke said: "The public have a right to expect continuing improvement in the quality and efficiency of public services, without compromising public safety.
"The competition strategy and adjustments to the prison estate will help ensure that this is the case."
The MoJ said it hoped staff displaced by the two prison closures would be absorbed elsewhere in the system.
The closures are part of an overall programme, which will expect to see 2,500 new prison places become available over the next 12 months, the statement went on to say.
HMPs Lindholme, Moorland and Hatfield are in Yorkshire, HMPs Acklington and Castington are in Northumberland, HMP Onley is in Warwickshire, HMP Durham is in County Durham and HMP Coldingley is in Surrey.
In January, Mr Clarke announced the closure of Ashwell prison in Rutland and Lancaster Castle in Lancashire, and the change of use of HMP Morton Hall to an Immigration Removal Centre.
Birmingham prison will be the first jail to be transferred from the public to the private sector in the UK in October, with the loss of more than 100 jobs.
In December 2010, Mr Clarke set out proposals to reduce the then 85,000-strong prison population in England and Wales by about 3,000 over four years.
Related Internet Links
The BBC is not responsible for the content of external sites.