Police officers voice anger at budget cuts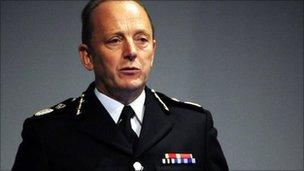 The government has been accused of risking safety, as more than 2,000 police officers gathered to voice their concerns at cuts to the service.
Officers from across England and Wales attended an open meeting in London to protest at a 20% reduction in the policing budget and a pay freeze.
Police Federation chairman Paul McKeever got a standing ovation for branding plans an "absolute disgrace".
He said he had "no doubt" the cuts could lead to more crime.
Others speaking at the event included shadow home secretary Yvette Cooper, president of the Association of Chief Police Officers (Acpo) Sir Hugh Orde, and TUC general secretary Brendan Barber.
Mr McKeever told the BBC that the police were being disproportionately affected by efforts to reduce the deficit and said its officers were being treated unfairly.
"We're being cut much further than other public-facing parts of the public sector," he said.
"If you look at the NHS it's ring-fenced - that's right and proper. Defence is being cut by 7%, but we're being cut by 20%, which is a massive amount.
"We're not alone in the Police Federation in saying the government needs to reconsider these cuts which are going to have a profound effect on the communities we serve."
He was backed by shadow home secretary Yvette Cooper. She told the meeting that the government was forging a track record in taking U-turns on policy.
"I think it's time to do it for policing too," she said.
Home Secretary Theresa May has said that "extraordinary circumstances" mean that the cuts are necessary and they are needed to help rescue the economy.
The day of action was organised after she refused to relent on the cuts, which include a two-year pay freeze, during her annual speech to the Police Federation.
The cut in funding is due to come into force by 2014-15. Mr McKeever has claimed it could mean 20,000 fewer officers in service.