Phone hacking: Commentators on future of British press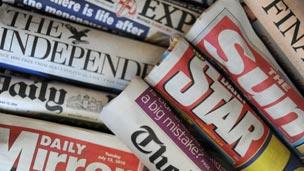 The News of the World phone-hacking scandal forced the closure of the red-top and saw media mogul Rupert Murdoch drop plans for taking complete control of broadcaster BSkyB.
Media commentators and politicians consider the questions the scandal has raised over media regulation, press ownership and the future of British journalism, particularly in the tabloid press.
Nick Clegg, Deputy Prime Minister
"A raucous, probing press, able to hold politicians to account, comes at a price. Journalists will always operate at the boundaries of what is and isn't acceptable in order to unearth the truth for the sake of the public interest. And we need to have a proper debate about where that line lies.
"Yes the press is a national institution and a public good but it is commercial too, serving private interests. Our challenge is to get the balance right - ensuring our media is as free as possible but without sacrificing ethical standards or seeing itself as above the law."
Fleet Street Fox, anonymous blogger
"I think it's too early to say anything has changed, unless you're one of those who lost their job last week for doing nothing wrong.
"The story is changing several times a day and everything is in flux - but it's clear that once the inquiries have finished the entire landscape will be different, not just for the media, but for politics, police and the courts.
"We shouldn't forget before the public revulsion about phone-hacking there was public revulsion at privacy injunctions. There needs to be a balance."
Roger Graef, writer, film-maker and criminologist
"We could see a real earthquake in the newspaper world if Rupert Murdoch decides to take revenge or just to cut and run. (If he) loses the loss-making papers he would make a great deal more money without them.
"Meanwhile, not only are the Times and Sunday Times at risk, but so is the Guardian if the Independent goes free because it would undercut the Guardian's base and they're losing money too.
"I think we do have to be careful what we wish for. At the moment there are some clouds on the horizon that worry me, and I know worry a lot of journalists."
Dominic Ponsford, editor, Press Gazette
"Crystal ball-gazing on this story is so hard because it seems that every hour or so some new completely unexpected bombshell explodes.
"That said, my predictions are that News Corp will press on full-steam ahead with a Sunday edition of the Sun because he (Murdoch) doesn't have to worry about media plurality issues and the BSkyB bid any more.
"Use of private investigators by journalists in the UK will be drastically curbed if not banned altogether. Any judicial inquiry will take a close look at the extent to which media proprietors exert unfair influence on the political process and seek to somehow curb this."
Steven Barnett, Professor of Communications, University of Westminster
"I think the wider questions are probably the more important ones - about where we go next and whether we actually legislate to ensure there is real media plurality (and make sure that) there isn't too much concentration in too few hands. That there is a new transparency between our political leaders and our media leaders - that we know what's being said to whom. No more secret lunches, no more backdoor entrances into Downing Street. These are the things I think will happen."
Elinor Goodman, former Channel 4 News political editor
"I think in terms of the future it is always tempting at these moments to exaggerate the difference it is going to make.
"It is going to make a difference in the sense that Murdoch himself is obviously a much weaker figure and the likelihood is regulation will be much stricter.
"But I think that the reality is that politicians, in this odd symbiotic relationship they have with the media, are still going to rely on the media to get their message over and they're always going to be looking to the media because they see it as a measure of public opinion."
Claire Enders, media analyst
"I have no doubt that they (the Murdochs) will always be committed to taking over BSkyB again in the future but I am pretty sure they they must realise they they can't do so (currently).
"The overall picture of the future is really quite different and I'm sure that we will see News Corp focus on the assets that are worth most to it, rather than the ones that have lost their economic value, like the titles."
David Aaronovitch, columnist, The Times
"It (the fall-out of the phone-hacking scandal) brings the question of ethics into the open and we can have a proper discussion.
"I think, in the end, that may be the most important thing - that people know and can defend themselves in public.
"It's accountability that matters."
Tony Blair, former prime minister
"Let's have an honest debate about this. I've wanted this for a long time because I think most of us who have been at the top in public life over the last few decades have been uncomfortable with this relationship and the way it works.
"The first step is to have a debate in an open, frank and clear way."
Charlie Elphicke, Conservative MP for Dover and Deal
"There is a real risk of the whole thing getting out of control. What we need to do is to have a judicial inquiry to actually get to the bottom of this.
"It's not just about News International, it's a generalised problem with the media, and indeed with the police.
"We need to find out what had gone on and make sure this doesn't happen again. There now needs to be a serious clean-up in the way the media behaves in general."
Related Internet Links
The BBC is not responsible for the content of external sites.