Burglaries up 14% - British Crime Survey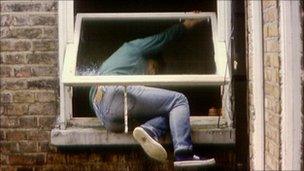 Burglaries at homes in England and Wales rose by 14% in 2010-11 compared with the previous year, the British Crime Survey (BCS) suggests.
Separate data of crimes recorded by police showed crime fell 4% and domestic burglary was down 4%.
Officials regard the BCS as the most reliable indicator of crime trends.
Recorded crime figures suggested a 10% rise in the number of recorded thefts of unattended mobiles, wallets and purses from pubs, household property from gardens, and metal or industrial equipment.
The total number of crimes recorded by police fell by about 100,000 to 4.2 million over the last year.
In contrast, the BCS figures showed there were about 9.6 million crimes overall in 2010-11, compared with 9.5 million the previous year.
A separate survey by Victim Support suggests that just over one in three victims of crime (35%) feels they are kept in the dark after reporting an offence.
The charity's poll of 1,100 victims also found 39% of them felt justice needed to be speeded up so victims could move on with their lives.
Officials advised "caution" over the BCS burglary figures saying the rise to 745,000 followed a record low the previous year of 651,000, and said the current estimate was more in line with those for the previous five years.
They said it would be "premature" to view the figure as evidence of a newly rising trend in domestic burglary.
They also said some commentators had expected to see rises in acquisitive crime due to the recession and greater unemployment but there was no firm evidence for this.
"Despite difficult economic conditions these latest statistics show no consistent evidence of upward pressure across the range of acquisitive crime," the researchers concluded.
But they said both sets of figures indicated that the long-term downward trend in crime since the mid-1990s was "easing".
Other figures from the BCS pointed to a big rise in domestic violence, up 35% in a year.
However, officials said the number of domestic violence victims surveyed was small which meant the figures were "prone to fluctuation".
Chief Constable Jon Murphy, head of crime for the Association of Chief Police Officers, said officers would be seeking to find any emerging patterns of criminality to the rise in burglaries and thefts.
He added that the "significant increase" in metal theft was due to the price of second-hand scrap metal.
"This has a potentially significant impact on the national critical infrastructure and consequent risk to the public," he added.
Simon Reed, vice-chairman of the Police Federation of England and Wales, said: "Today's statistics must serve as a stark warning to government - stop, think and urgently reconsider the 20% cut to the police service."
Home Office minister James Brokenshire said: "We have consistently argued that crime is too high and that is why our policing reforms are so urgently needed."
He said reforms would mean communities would have a greater say in local policing priorities, red tape would be cut and the pubic could hold their local force to account daily with the new online street-level crime maps.
The figures could not be used to draw long-term trends nor to link crime to the state of the economy, he added.
"It's a very complicated picture - there is no simple link."
Shadow home secretary Yvette Cooper said: "Now is not the time for the government to take risks with community safety by cutting over 12,000 police officers - people want crime to fall further and the government is doing nothing to help."
The BCS only covers England and Wales, with data reported separately in Scotland and Northern Ireland. In Scotland, the equivalent of the BCS is the Scottish Crime and Justice Survey.
Related Internet Links
The BBC is not responsible for the content of external sites.