Arab Spring standby role for HMS Albion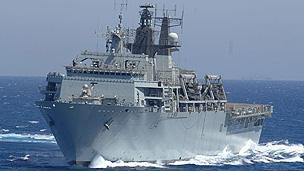 The Royal Navy's Task Force was deployed to the Gulf at the start of the so-called Arab Spring, to be on standby for any emergencies in the area.
So what is life like on flagship vessel HMS Albion, which is currently based off the United Arab Emirates carrying out exercises?
It's been given a rather grand sounding name: "Response Force Task Group".
In reality it's a modest number of warships - five in total - ready to react to a crisis.
After the recent defence cuts this is now the Royal Navy's front line, quick reaction force - proving that she can still influence global events, even if she no longer rules the waves.
We joined the task group in the Gulf.
They'd already sailed through the Mediterranean, leaving the helicopter carrier HMS Ocean, a destroyer and a nuclear powered submarine, behind to take part in operations off Libya.
The rest of the fleet made its way through the Suez Canal, now in relatively easy reach of the region's other hot spots; such as Syria, Yemen and Bahrain.
There is a reluctance on board to explain what exactly they might do, although the captain of HMS Albion, the command ship, acknowledges they were deployed earlier than planned to "provide political choices" in response to the Arab Spring.
When pressed, Captain James Morley says they could carry out the evacuation of civilians or "non-combatants" and help in the distribution of humanitarian aid.
So far they've not received any orders, though Captain Morley notes the situation in Libya is changing by the day.
On board HMS Albion there's a detachment of about 70 Royal Marines.
The ship is loaded with their Viking armoured vehicles and Land Rovers.
Deep in its bowels there's a docking station for various landing craft.
These are tools the Navy needs to carry out any assault on land and the reason why Captain Morley likens Albion to a "Volvo Estate", though others on board say she looks more like a cross Channel ferry.
Whatever description fits best, Albion is now - for the time being at least - the Royal Navy's flagship.
This deployment has also given the Royal Navy a chance to build relations with key allies in the region.
The fleet and the Royal Marines on board have already taken part in joint exercises with Saudi Arabian and Omani armed forces.
When we joined the crew, she was carrying out a joint exercise with the United Arab Emirates.
These were planned well in advance - not just to reassure friendly Arab nations, but also with an eye on Iran - just across the straits of Hormuz.
Once again, there's a reluctance on board to mention the country by name, or to suggest this has anything to do with containing Iran's influence.
This all shows that Britain's global ambitions remain undiminished, even if the size of her navy has shrunk considerably.
But it also raises questions about the demands being placed on a leaner military machine.
The task force has already been at sea for more than three months, and they're still not certain when they'll be home.
The Royal Marines on board, from 40 Commando, only returned from Afghanistan at the end of last year.
They were involved in some of the fiercest fighting in Sangin.
After this deployment they'll be preparing to go back to Helmand again.
But in the current climate of cuts they're keen to prove why they're still needed.
The amphibious skills they're re-learning - inserting troops from sea onto land - make them stand out from their rivals.
They say it's what makes them more versatile than, say, the Parachute regiment.
The Commanding Officer of 40 Commando, Lt Colonel Matt Jackson, tells me: "This is proving what we still can do, as opposed to what we might not be able to do".
He says that's a key message when the Strategic Defence and Security Review is "biting hard".
His marines put it even more bluntly.
"We're all fighting for our survival," says Corporal Luke Wilson, sweat dripping off his face after taking part in a dawn raid on a remote UAE island in sweltering heat.
Cpl Wilson admits that the Royal Marines are stretched "not beyond our capabilities", he says, "but to the limit of our capabilities".
When they finally return back to the UK, the Royal Navy will find itself even harder pressed.
HMS Albion is due to be mothballed - another casualty of Britain's defence review.
Related Internet Links
The BBC is not responsible for the content of external sites.