Phone hacking: Murdoch letter to MPs' committee in full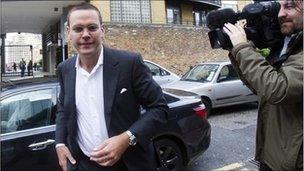 News International chairman James Murdoch has written to John Whittingdale, chairman of the Commons Culture, Media and Sport Committee, in response to the summonses served by the committee on both him and Rupert Murdoch earlier on Thursday. Here is the full text of the letter:
I refer to the Culture, Media and Sport Select Committee's request that my father and I attend the oral session on Tuesday 19 July at 2.30pm.
I am writing to confirm our attendance. I would like however to draw your attention to a few issues.
I hope that it is clear that we are committed to ensuring that the issues that have affected the News of the World are fully investigated and dealt with appropriately and robustly.
To that end we have committed to full cooperation with the police inquiries that are underway and with the Public Inquiry to be led by Lord Justice Leveson that will begin its work shortly.
We of course also wish to cooperate fully with your Committee's consideration of these matters.
In the course of the investigations and inquiries now envisaged, all the relevant issues will undoubtedly be fully and effectively reviewed and, no doubt, many questions will be asked.
I am, however, very much concerned that we are now being asked to answer yet further questions in a different forum.
We have been advised that, in light of the fact that there are to be multiple reviews of the issues, this does carry the risk of prejudicing other judicial proceedings and in particular the ongoing police investigation and any potential subsequent prosecutions.
I would therefore respectfully ask you to take the utmost care in ensuring that the Committee hearing does not run any risk of prejudicing that investigation and subsequent prosecutions.
I look forward to hearing from you as soon as possible.
Deputy Chief Operating Officer and Chairman and CEO, International