UK to send four more RAF Tornados to Libya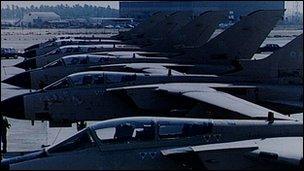 The UK is sending four more Tornado warplanes to support the Nato mission in Libya, in addition to 12 aircraft it has already deployed.
Foreign Office Minister Alistair Burt said the aircraft were well equipped for surveillance and reconnaissance.
"It is important to have this capability available," he said.
Earlier this week, Nato Secretary-General Anders Fogh Rasmussen called on members to provide more aircraft to protect Libyan civilians.
Nato said its warplanes had conducted more than 5,000 air missions since the action began in March.
Meanwhile in Turkey, Arab and Nato diplomats are meeting to consider the next phase of their campaign in Libya. US Secretary of State Hillary Clinton and UK Foreign Secretary William Hague are part of the group of 15 gathering in Istanbul.
It is the fourth meeting of the Libya Contact Group since March.
The conflict in Libya began with protests against Col Muammar Gaddafi's regime and has escalated into a bloody battle for territory between government and rebel forces in the west and east of the oil-rich country.
The uprising, inspired by events in neighbouring Tunisia and Egypt and sparked by the arrest of a Libyan human rights campaigner, began in February. Many were killed as authorities tried to suppress the revolt.