Rupert Murdoch 'sorry' in newspaper adverts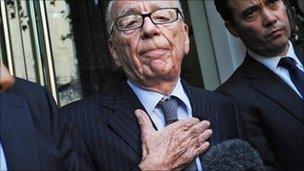 National newspapers are running a full-page advert with a signed apology from Rupert Murdoch over "serious wrongdoing" by the News of the World.
The advert states: "We are sorry for the serious wrongdoing that occurred."
Rebekah Brooks, a former editor of the paper, and senior News Corporation executive Les Hinton both resigned on Friday over the phone-hacking scandal.
The printed apology expresses regret for not acting faster "to sort things out".
"I realise that simply apologising is not enough. Our business was founded on the idea that a free and open press should be a positive force in society. We need to live up to this.
"In the coming days, as we take further concrete steps to resolve these issues and make amends for the damage they have caused, you will hear more from us", says the statement, signed "sincerely, Rupert Murdoch".
Downing Street revealed that former News of the World editor Andy Coulson stayed at Mr Cameron's official residence Chequers in March, after he resigned from his job as Director of Communications in Downing Street. Mr Coulson was arrested last week as part of the police inquiry into phone-hacking.
A list of Mr Cameron's guests at his country retreat showed that he was visited there twice by Mrs Brooks, in June and August last year, as well as once in November by News International chairman James Murdoch and his wife Kathryn.
Former deputy prime minister Lord Prescott says Rupert Murdoch is "desperately" trying to save his company, and "ditching everybody else in the process". He said his apology changed nothing and only came about because he is going to be asked questions about his record by MPs next week.
The actor Jude Law is suing The Sun newspaper for alleged phone hacking. He's launched legal proceedings over four articles published in 2005 and 2006. A spokesperson for News International called the news "a deeply cynical and deliberately mischievous attempt to draw The Sun into the phone-hacking issue."
Mrs Brooks is expected to appear alongside Rupert and James Murdoch in front of the Commons media select committee on Tuesday to answer MPs questions on the hacking scandal.
She was editor of News of the World between 2000 and 2003, during which time the phone belonging to murdered schoolgirl Milly Dowler was tampered with.
In a statement resigning as chief executive of News International, she said she felt a "deep responsibility for the people we have hurt".
She said she wanted to "reiterate how sorry I am for what we now know to have taken place".
Her statement went on: "I have believed that the right and responsible action has been to lead us through the heat of the crisis. However my desire to remain on the bridge has made me a focal point of the debate.
"This is now detracting attention from all our honest endeavours to fix the problems of the past."
Mrs Brooks, 43, who had been with News International for 22 years, bowed to the international pressure piling up on the company.
Prime Minister David Cameron said through a spokesman that her resignation was "the right decision".
She has been replaced by Tom Mockridge, who was in charge of News Corporation's Italian broadcasting arm.
Les Hinton, chief executive of the media group's Dow Jones, was head of News International from 1995 to 2007 and has worked with Rupert Murdoch for more than five decades.
Mr Hinton, the most senior executive to leave the conglomerate, said in a statement that he was "ignorant of what apparently happened" but felt it was proper to resign.
Also on Friday, Rupert Murdoch apologised to Milly Dowler's family at a meeting in London.
The family's solicitor Mark Lewis said the newspaper boss looked very shaken up and upset during the talks, which were arranged at short notice.
He said the Dowlers were surprised his son James Murdoch did not attend and called on the News International chairman to "take some responsibility" in the affair.
Related Internet Links
The BBC is not responsible for the content of external sites.