Army may face cuts to fund TA reservists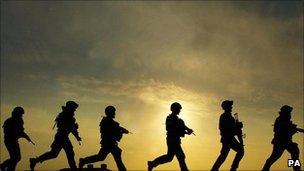 The government is considering making further cuts to the size of the Army to enable a "substantial increase" in reserve forces such as the TA.
An independent review of reserve forces is expected to recommend a recruitment drive for more part-time soldiers.
Better pay and training will be offered but there will be more emphasis on reservists in civilian jobs to go on military operations when needed.
The government already plans to reduce soldiers by 7,000 to 95,000 by 2015.
The review, which is set to be published next week, is calling for more part-time soldiers, sailors and airmen in the TA, the Royal Naval Reserve and the Royal Air Force Volunteer Reserve.
The aim is to make the reserves more professional, forming more stand-alone units that can deploy and operate on their own, rather than just attaching reservists in small groups across the regular forces.
Reservists cost much less than regular forces and increasing their number would in the long run save the Ministry of Defence (MoD) substantial sums.
The government is already cutting the size of the full-time army as a result of the defence spending review announced last year.
Any further cuts in the regular army - to help pay for increasing the reserves - would begin only after combat troops have left Afghanistan in 2015.
There are currently around 36,000 servicemen and women in the TA, with a few thousand in the maritime and air force reserves.
One defence source said the MoD would need upfront cash to pay for an expansion of the TA but he added that "more reserves will mean fewer regulars but not until we are out of Afghanistan".
He added that the reduction in full time servicemen and women would be "over and on top of" existing planned cuts.
An MoD spokesperson said: "Following the Strategic Defence and Security Review a series of additional studies have been undertaken to continue the work of transforming and rebalancing defence.
"We expect to announce the findings of these studies to Parliament next week and it would be inappropriate to comment further at this time."
Related Internet Links
The BBC is not responsible for the content of external sites.