Newspaper review: Phone hacking continues to dominate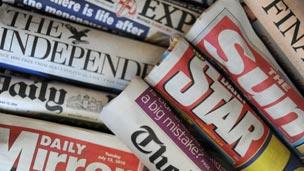 The phone-hacking scandal's fallout continues to dominate the newspapers.
David Cameron's judgement is being questioned by the Daily Telegraph after it emerges that Andy Coulson stayed at the prime minister's country retreat two months after he resigned as the PM's head of communications.
There is also plenty of soul-searching about the close relationship between politicians, police and the media.
The Times says accepting an invite to a political soiree puts you "on the slope to obligation and compromise".
Writers in the Sun and the Guardian plead for acknowledgement that not all of those involved are being corrupted.
But the papers are also keen to move away from phone hacking.
It says America's debt crisis, and the failing of stress tests by several European banks, are worrying omens for the British taxpayer.
They claimed £161m with the Euromillions jackpot, but the papers fall in love with their modesty.
Related Internet Links
The BBC is not responsible for the content of external sites.