RAF man killed in Italy road crash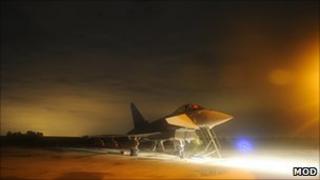 A Royal Air Force serviceman was killed in a road accident in southern Italy on Wednesday, the Ministry of Defence (MoD) has said.
It said the airman, of No 2 (Mechanical Transport) Squadron, was driving the lead vehicle in a convoy when it left the road in the Abruzzo region.
It was taking supplies to UK forces involved in military action in Libya.
The 23-year-old, who has not been named, was based at RAF Wittering, Cambs. His family have been told.
MoD spokesman Col Nick Orr said it was not yet known why his vehicle left the road, but the cause of the accident was being investigated.
He said: "It is with deep regret that I must announce the death of a Royal Air Force serviceman from No 2 (Mechanical Transport) Squadron in a road traffic accident in southern Italy on 20 July 2011.
"Our thoughts and prayers are with his family at this terribly difficult time."
The convoy was travelling from the UK to air bases in southern Italy.
Depot strikes
In Libya, there has been five months of fighting between forces supporting Libyan leader Col Muammar Gaddafi and rebel forces.
UK forces have been involved in military action in Libya since March when the UN passed resolution 1973, which permitted intervention to protect Libyan civilians against Col Gaddafi.
In recent days, the RAF has been carrying out air strikes on a large military vehicle depot in Tajura, a city on the outskirts of Tripoli.
Other RAF aircraft have also carried out a strike on military antenna at Tripoli airport.