Zara Phillips and Mike Tindall: The 'other' royal wedding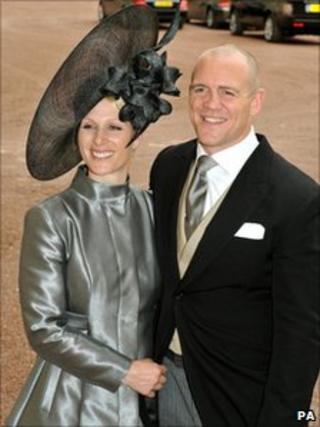 Three months ago, Zara Phillips was a guest as the world watched Kate Middleton marry her prince in a lavish and very public ceremony.
Now it's the turn of Queen's eldest granddaughter to step into the spotlight, as she ties the knot with rugby star Mike Tindall on Saturday.
Like the duke and duchess's wedding, the Queen and Duke of Edinburgh will be in attendance, but this weekend's marriage - already dubbed "the other" royal wedding - is set to be a world away from April's ceremony.
Much of the day's details are a closely-guarded secret, but the setting will be a modest Edinburgh church, in stark contrast to the grandeur of Westminster Abbey and the glare of the world's media.
The Canongate Kirk is a short distance from Holyroodhouse, where the couple's reception takes place and it is understood they will travel in cars not carriages.
But while central London ground to a halt in April as thousands of well-wishers turned out, only small crowds are expected as Canongate is closed to traffic.
'Family thing'
While the glittering guest list at Prince William and Miss Middleton's wedding featured foreign dignitaries, politicians and representatives from the Church and charities, Saturday's affair will more likely include stars from the world of rugby and equestrianism, in which the couple have excelled.
The bride's parents, Princess Anne and Captain Mark Phillips, are also known for their equestrian talents, having competed in the British team at the Olympic games.
Royal historian Hugo Vickers says it will be more "sporting celebrity occasion" than a royal wedding.
"Zara Phillips is not technically a member of the royal family - she just happens to have a mother who is," he adds.
"The whole set-up is much more informal, it's very much a family thing."
He adds: "I wouldn't say he is marrying into the royal family, rather she is marrying out of the royal family."
Joe Little, managing editor of Majesty magazine, agrees on Zara Phillip's royal credentials.
"She regards herself as a sportswoman not as a royal. She would even dispute the fact it's a royal wedding," he says.
Old fleece
It was during the England team's successful campaign in Australia in 2003 that Miss Phillips, now 30 and a qualified equine physiotherapist, first met Yorkshireman Mike Tindall, now 32.
They often make the sports pages - he as England captain and she for her riding achievements, taking gold at the World Equestrian games in 2006 and later being named BBC Sports Personality of the Year and receiving an MBE. As a couple they are determinedly low key, keeping their relationship out of the public eye where possible.
Mike Tindall says he has come to accept press intrusion. "I just get on with my life, it's all I can do," he has said.
He famously proposed last December as they watched a film on the sofa, the 13th in line to the throne only managing to say "yes" when she had stopped laughing.
Zara Phillips has enjoyed a considerable amount of freedom as a non-working member of the royal family, and Joe Little says her "no fuss" approach to the wedding was not a surprise.
"They are Mr and Mrs Laid Back," he says.
"When William and Kate got engaged there was a formal engagement photocall but when Zara and Mike got engaged it was quite a scruffy picture outside their house. She had a flat cap on with an old fleece and they both wore jeans."
But then Miss Phillips has long been a very down-to-earth girl, according to the Majesty managing editor.
He remembers seeing the royal aged four or five throwing a tantrum at a horse show - but she was quickly put in her place by her mother.
"You couldn't see what was being said but you were left in no doubt as to the ear-bashing she was getting," he said.
"That's how she was brought up - with both feet firmly on the ground."
As an England rugby star who has captained his national side, commentators say Mr Tindall's sporting success makes him a good match for Zara Phillips and her family.
BBC royal correspondent Nicholas Witchell has described Mike Tindall as a "steadying influence" on "rebellious" Zara Phillips, who has hit the headlines for getting her tongue pierced and sunbathing topless.
But the rugby player recently made headlines for reportedly running up a bar bill of $20,000 - more than £12,000 - on his stag night in Florida.
And he courted his mother-in-law-to-be's wrath by revealing she had asked him to get his nose straightened before the wedding - a request he politely declined.
Owing to the couple's strong individual characters, commentators agree their nuptials do hold some fascination for the public, but while the first royal wedding of the year was said to have boosted London's economy, Saturday's event is unlikely to do the same for the Scottish capital.
And while April's bash saw a roaring trade in memorabilia, well-wishers planning to line the streets would be hard-pressed to find a memento of the day in local shops.
However, those in search of that something special should head online, according to the Scotsman, where they will find thimbles, bone china pieces and watercolours to mark the couple's big day.
"It is very much the other royal wedding - although I'm sure it will be a lot of fun," says Mr Vickers.
Mr Little adds: "They (Miss Phillips and Prince William) are the same generation and they both have the Queen and the Duke of Edinburgh as grandparents but apart from that there's not much to compare the two occasions.
"William and Kate got global attention from television audiences estimated at two billion while Zara may make the news for a few seconds on Saturday night - that will be as big as it gets.
"I think that will suit them very nicely."