Organised crime strategy promises 'tougher approach'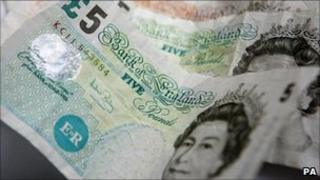 The government is promising a "much tougher approach" to organised crime, as figures show a record £1bn in assets were seized or frozen last year.
Profiling organised criminals, disrupting gangs' finances and a new organised crime co-ordination centre will feature in the four-year strategy.
The National Crime Agency - operational in 2013 - will lead the fight and make a "major difference", says a report.
Key threats targeted by the strategy include drugs and human trafficking.
There will also be a focus on financial offences.
Ministers are promising to make it easier for police to confiscate proceeds of crime in the UK and abroad.
The strategy - running until 2015 - also aims to make better use of intelligence gathering, such as intercepting communications, and to improve co-operation with international law enforcement bodies.
It will also target and disrupt so-called front businesses that criminals run that have large amounts of unpaid tax.
'£40bn cost'
Police estimate that organised crime involves 6,000 groups, up to 38,000 people and that it could cost the UK economy between £20bn and £40bn a year.
The Home Office says that law enforcement agencies seized £161m in assets from offenders across the UK in the year to April 2011.
Gangs were also deprived of a further £800m, largely through police freezing their assets. Another £50m was returned to victims.
The £161m is the highest amount recovered in a single year since the introduction of key asset-seizing powers under the Proceeds of Crime Act 2002.
Chief constables say that a great deal of ordinary crime, such as the theft of expensive cars or prostitution, can be linked to organised gangs who in turn are linked to major international enterprises such as drugs and counterfeiting.
James Brokenshire, minister for crime and security, said: "Organised crime is on the increase and we have to take strong measures to disrupt it.
"For too long organised criminals have thought they can get away with it... This new strategy provides a comprehensive national response across government, law enforcement, security and intelligence agencies.
"It will pave the way for the National Crime Agency, galvanising all those with a role to play in tackling organised crime. We need to address the threat at a local, national and international level in order to make a lasting impact."
Police support
Chief Constable Jon Murphy, of the Association of Chief Police Officers, said the organisation supported the new approach and had worked with the Home Office on the plans.
He said: "It provides a clear direction for the future work of the police, all other law enforcement agencies and our partners in dealing with the problem of organised crime."
The Home Office had already pledged to introduce the National Crime Agency, which will replace the current Serious Organised Crime Agency.
The new body will also include the Child Exploitation and Online Protection Centre (Ceop) and elements of border policing.
It is not clear what relationship it will have with police in Scotland, where there is an existing organised crime strategy set at Holyrood.