Broadcaster Robert Robinson dies at 83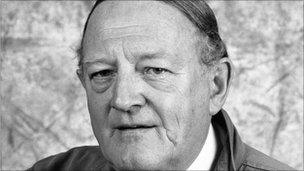 Robert Robinson, the veteran broadcaster and presenter, has died at the age of 83.
In a career spanning five decades, he presented a wealth of radio and television programmes for the BBC.
They included Ask the Family, Stop the Week and Call My Bluff. Mr Robinson also had a stint presenting Radio 4's Today programme.
He died in St Mary's Hospital, Paddington, after a long period of ill health.
His daughter, Susie Robinson, said: "He had a very long, productive and successful life and we'll all miss him terribly."
Caroline Raphael, commissioning editor for BBC Radio 4 comedy, paid tribute to her former colleague whom she called a "radio legend".
She said he had "one of the most recognisable and pleasurable voices on radio".
"Many of the Radio 4 listeners will have grown up listening to Robert and enjoyed his quiet, wry intelligence. We'll miss him," she added.
Robert Robinson was born in Liverpool and went on to study at Oxford University.
There he met Josee Richard, the actress to whom he was married for more than 40 years.
On graduating, Robinson began his career in journalism by faking readers' letters for a magazine.
In 1952 he became the television columnist for the Sunday Chronicle, before developing the interrogation technique that was picked up by later political interviewers.
In 1974, his three-year tenure at the Today programme was crowned when he was made Radio Personality of the Year.
Robinson's ability to prick political pomposity with his knack of asking awkward questions brought him many admirers, but also detractors, including a tabloid newspaper, which termed him "the man who sneers at everything."
He himself enjoyed an enduring disrespect for many of the political breed. "It's impossible to make the bastards reply to a straight question," he once said.
Bored by what he called the "sonorous drivel" of politicians, he revelled in the role of quizmaster on such long-running shows as Radio 4's Brain of Britain, where, as he said, "at least you knew it was a game".
It was this "humble calling" as a quizmaster that most will remember him for.
Robinson only stood down as chairman of Brain of Britain last year.
At his retirement the then-Radio 4 controller, Mark Damazer, said: "The brilliant Robert Robinson defined the art of the quiz show host.
"He presided over Brain Of Britain with sympathy for the contestants, wit and panache."
When his contestants got an answer wrong, the broadcaster famously uttered the catchphrase: "Ah, would that it were, would that it were."
Tributes have been paid to Robinson on Twitter.
BBC Radio 2 presenter Jeremy Vine tweeted: "Just want to say respect to Robert Robinson. Smart, well-read, modest. Great BBC man."
The BBC's business editor Robert Peston wrote: "Ask the Family, Brain of Britain, Call my Bluff. A chunk of my education was provided by Robert Robinson. I'll miss him."
And actor and writer Stephen Fry tweeted: "I've just heard the sad news of the passing of Robert Robinson. Would that it weren't, would that it weren't."