Big increase in house prices near football grounds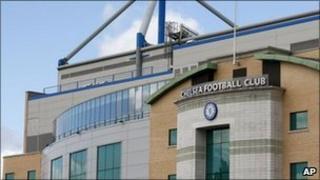 Homes near a Premier League football ground have shot up in value over the past decade, research suggests.
Homeowners with the same post code area as a top-flight team saw prices rise by an average of 168% to £353,408.
House values across England and Wales increased by 113% over the past decade, according to Land Registry information accessed by mortgage lender Halifax.
The biggest increase was near Manchester City's Etihad Stadium which saw an average 350% rise to £91,703.
The study found that five of the six biggest increases were where a new stadium had been built in the past 15 years, including Manchester City who moved from their old home at Maine Road in 2003.
Suren Thiru, housing economist at Halifax, said these rises were associated with improvements to the surrounding area that often accompanied stadium development.
"In general, house prices in the areas that are home to many of our major football venues have strengthened significantly over the past decade, reflecting in part the amenities commonly found in such locations, including good transport links," he said.
The lowest average rise was around Newcastle United's city centre St James' Park at 31% to £144,774 over 10 years.
The most expensive average house price was £767,000 near Chelsea and Fulham in London SW6, while the lowest was £70,461 for Liverpool and Everton in the L4 area of Merseyside.
House price league table:
1. Manchester City 350% (£91,703)
2. Aston Villa 215% (£111,374)
3. Sunderland 159% (£97,820)
4. Swansea City 140% (£115,481)
5. Bolton Wanderers 134% (£177,399)
6. Stoke City 134% (£111,657)
=7. Everton 133% (£70,461)
=7. Liverpool 133% (£70,461)
=9. Chelsea 116% (£767,553)
=9. Fulham 116% (£767,553)
11. Wolverhampton Wanderers 115% (£93,754)
12. Wigan Athletic 115% (£122,989)
13. Tottenham Hotspur 111% (£251,323)
14. Blackburn Rovers 109% (£118,508)
15. Norwich City 106% (£159,582)
16. West Bromwich Albion 105% (£128,547)
17. Manchester United 102% (£143,144)
18. Arsenal 102% (£539,653)
19. Queen's Park Rangers 98% (£468,710)
20. Newcastle United 31% (£144,774)
Premier League 168% (£353,408)
England and Wales 113% (£236,724)
Average house price rises in post code areas containing a Premier League football club over 10 years to June 2011 (Current average price in brackets). Source: Halifax/Land Registry