Rail fare rise: Your views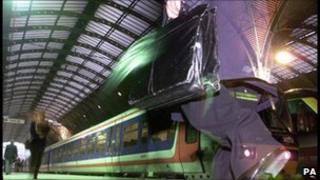 Rail travellers in England are facing ticket rises of around 8% next year, following the release of latest inflation figures.
The rises are part of the government's agenda to reduce the cost to the taxpayer of running the rail network.
BBC News website readers have been giving their response to the price rise.
Tom Grocott, Birmingham
As a young person I cannot afford a car due to extortionate fuel and insurance costs. I rely on the railway to get me to where I want to go, and I'm already struggling to afford fares.
I have noticed an early morning fare from Rugeley to Birmingham increase from around £6 to nearly £10 in the last few years, and that is without any future planned price rises.
These ticket prices are already making me wonder whether I can afford to make all of my journeys without making sacrifices somewhere else.
I used to do work experience in Telford and some weeks I couldn't go as I couldn't afford the fare. If they rise even more I may have to cut out more journeys.
The railway is there for people who cannot afford other forms of transport, and like the NHS it is a public service that should be (at least partly) funded by the taxpayer for the good of everyone.
The government should be putting more public money into the railways, not cutting it.
This is another government policy that will benefit the rich who use the railway less, and adversely affect the poor, who rely on the railway to get around.
Anne Llewellyn, Pilton, Somerset
I live and work in Somerset, but there was a possibility I would have to commute to London at an annual cost of £8,000. While 8% on a local journey isn't a massive difference, an 8% increase on an £8,000 annual season ticket is significant.
So the amount you have to pay just to get to work becomes ridiculous.
My family live in London, but if I go home to London I wouldn't even consider the train - especially if there is more than one passenger in the car because driving is much cheaper.
It's a shame because I actually prefer travelling by train - I just can't afford the luxury of doing so. You don't have the stress of driving and can read a book, but from where I live it's £163 day return on the morning train to London but it's only £40 in diesel.
Why do commuters keep being hit? They are obviously a captive audience but there is a limit to how much they can keep paying out.
Also, business travel in general is more expensive - businesses aren't cash cows so alternatives to train travel are always being sought.
Increases like this may generate more income in the short run but fewer people will travel so it can't work in the long run.
I have to regularly travel to Manchester for work and I fly rather than take the train. It's cheaper and quicker which seems ludicrous.
Anthony Ayre, Stockton-on-Tees
Let's put these rail charges for commuting in some sort of context, such as the cost based on the average mileage from Oxford or Brighton to London.
The distance is approximately 55 miles. Using that as a yard stick, 110 miles each day, five days per week comes to a total of 550 miles.
Using 40 miles per gallon (which is a conservative estimate) equates to approximately 13.75 gallons of fuel at approximately £6.45 per gallon, which comes to £88.68 per week. The average person works 43 weeks per year, which brings it to £3813 per annum. After which you need to add wear and tear, servicing and other incidentals.
So all in all not a bad deal going by rail if you want to live 50 to 60 miles away from your place of work. It's your choice, if you don't like it move closer.
No I don't work for a rail company, I work and live in the north where we haven't got the infrastructure the south has.
The rail network is a national asset but it needs to be shared out better than it is. The Midlands and the north of England are pretty much ignored when it comes to rail investment.
Craig Robertson, Rochester
I have had to start using a motorbike to get to and from work. I used to take the train and spent 10 years commuting from Strood to London, but had to stop.
The seven day ticket is now £104, whereas with my motorbike I use about £40 in fuel.
I would love to use public transport but I can't afford the yearly season ticket, which is now £4,200. Adding in tax that's a lot of money you have to earn just to get to work.
I've been working in the city of London for 20 years and I've seen more and more traffic and more and more people converting to bikes.
I occasionally use the train from Strood to London, but it is always empty, probably because it costs so much and the car parking rates are high.
If train companies charged more affordable fares they would have more people wishing to use them.