William and Kate wedding dolls show off mini dress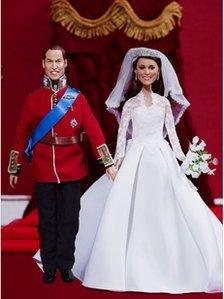 A doll called Princess Catherine - and wearing a mini replica of the year's most famous wedding dress - has been unveiled.
Maker Arklu showed off the doll - along with another of Prince William, depicted in his wedding outfit, at Hamleys toy store in London.
The company had produced a Catherine Engagement Doll before the big day and has worked on the update since.
And although the royal couple vowed to be together "till death us do part", the Catherine doll can be bought separately.
A donation of £1 from every purchase goes to the Royal National Lifeboat Institution.
Renowned designers and artists have contributed to the Catherine doll on details including the tiara, engagement ring, shoes, make-up, bridal bouquet and "something blue" knickers.
"These are just the sort of products you'd expect to appear after a big royal wedding," said Joe Little, managing editor of Majesty magazine.
"They're harmless enough, the likenesses are reasonably good, they seem well made - hence the price - and they will appeal to the north American market in particular.
"But there is no such person as 'Princess Catherine', just as there never was a 'Princess Diana'," he added.
Because she is not of royal blood, she has become Princess William, Duchess of Cambridge - rather than Princess Catherine.
"However, we shouldn't get too sniffy about this," Mr Little said. "We'll be reading about Princess Catherine or Kate Middleton in newspapers for many years to come."
The BBC News website could not get to the bottom of rumours of a planned Pippa Middleton doll.
Related Internet Links
The BBC is not responsible for the content of external sites.