Fire-hit Richard Branson family moved by public's support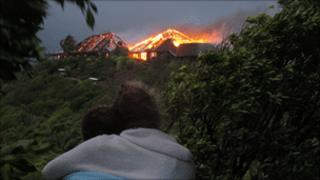 Sir Richard Branson says his family are "truly moved" by messages of support after fire broke out destroying their luxury Caribbean home.
Twenty people escaped unhurt from the eight-room house on Necker Island when lightning struck in a tropical storm.
Sir Richard, head of Virgin Group, said messages from people around the world had been "incredible" and his family had been "counting their blessings".
He also insisted his daughter, Holly, would still be married on the island.
The 29-year-old had been staying at the property, named the Great House, with Sir Richard's 90-year-old mother, Eve, when it caught light in the early hours of Monday.
British actress Kate Winslet, who was staying on the island, helped Eve Branson to safety.
Sir Richard had been staying at a nearby property with his wife, Joan, and son, Sam, 25, at the time.
Speaking in the morning as smoke continued to rise from the ashes of the house, he said: "We are so blessed that no-one died or was seriously injured and we are counting those blessings together as a family."
He added that the family had sat up all night talking about what could be built in its place and crying for what was lost.
Of his daughter's big day, he said: "We have a wedding to celebrate in December and I can't imagine giving my daughter's hand in marriage to the very lucky man who is her fiance, Freddie Andrewes, anywhere other than on Necker Island beach.
"Joan and I were married here and we want nothing more than our daughter, Holly, to get married on our beautiful island.
"We would love to get the house rebuilt in time but we know there is so much work to be done. But we will start as soon as possible and it's safe to do so.
"Simply put, we suspect that there may be slightly more tents for the wedding guests on the beach now but Holly and Freddie's wedding will definitely still happen here."
Sir Richard, 60, bought Necker Island in the early 1980s and began building the Great House in 1982, which is used by his family and friends as well as let out.