Profile: Learco Chindamo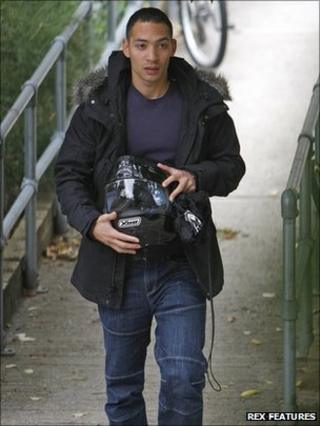 Learco Chindamo gained notoriety for the killing of headmaster Philip Lawrence outside his north London school in 1995, when he was just 15-years-old.
Chindamo has now been cleared of trying to use his notoriety to intimidate and rob a young man at a cash machine, months after his release from prison for the killing.
Chindamo's indoctrination into London's gang culture began at a young age.
Born in Milan in August 1980 to an Italian father and Filipino mother, he eventually moved to London at the age of six with his mother and two brothers, two years after the breakdown of his parents' relationship.
He went to school, but soon became a regular truant, preferring to live within a gang which roamed the burger bars and arcades of west London.
They modelled themselves on the Chinese triad groups, calling themselves the Woo Sang Wu, or Street Warriors.
Chindamo, as his solicitor put it, was, "a kid trying to act up big - he was out of control and he thought he knew everything".
In what has become one of the most notorious cases of its kind, Chindamo stabbed 48-year-old Mr Lawrence on 8 December 1995, as the headmaster defended a pupil outside St George's Roman Catholic comprehensive, in Maida Vale.
Chindamo had led a gang of 12 youths to attack a boy who had quarrelled with a 13-year-old pupil of Filipino origin.
Police involved in the investigation that followed had seen it all before - a tragic example, they said, of what happens when immature young men, full of bravado, pick up a knife and take to the streets.
Deportation ruling
During the trial, his mother sat in the courtroom every day, a few feet away from Mr Lawrence's widow, Frances.
Chindamo was jailed indefinitely for the murder in 1996 and ordered to serve at least 12 years, but was freed in July 2010 amid assurances he was a reformed character.
The year before, with his eligibility for release on parole approaching, ministers made a move to see him deported to Italy on his release.
But the Asylum and Immigration Tribunal ruled Chindamo, now 31, could stay, because he had no ties to the country of his birth.
That decision was later supported by the courts, following an appeal by the government.
The tribunal had said Chindamo no longer posed a serious threat to society, while a prison governor said he was capable of a "lawful and purposeful" life on release.
Despite his poor academic achievement, Chindamo had passed GCSEs in maths and English in prison, and gained an NVQ in health and social care.
He also, according to his lawyer, spent time speaking to other young offenders, urging them not to throw away their lives as he had.
At the time, his lawyer, Mr Leskin, said his client was unlikely to offend again, adding: "He strikes me as a very reformed, very nice, very thoughtful person."
The decision came as a traumatic blow for the widow of Mr Lawrence, who was made an MBE by the Queen in 2009 for her work championing young people.
Months after his release on parole to a probation hostel, Chindamo was arrested along with Gregory Jananto and Saeed Akhtar, both 32, in connection with the alleged cashpoint robbery.
Name calling
They were all cleared of robbery, following four attempts to bring Chindamo to justice at previous trials.
Jurors heard how the threesome allegedly surrounded and accosted David Sexton as he withdrew cash outside a Sainsbury's store in Camden last November.
Chindamo said he had been provoked by a man at the cashpoint who called him a "killer".
Defence lawyers claimed Mr Sexton in fact handed over £10 as a peace offering following the dispute, so Chindamo could buy a drink.