PG Wodehouse worried about Nazi cash, MI5 files show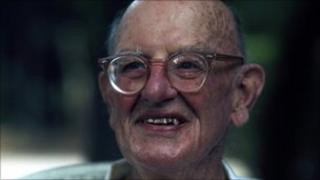 Author PG Wodehouse was worried about how much the Nazis would pay him for his radio broadcasts from wartime Germany, MI5 files have shown.
He always maintained his humorous 1941 broadcasts of life in a German internment camp were to thank his fellow US prisoners for their support.
But files declassified by the National Archives show MI5 had serious doubts about the British writer's account.
They said he was not always as "frank and ingenious [sic] as he pretends".
'Hollywood friend'
The author had been interned in Berlin in 1941 after the Germans overran France, where he had been living in a villa in Le Touquet.
Some in Britain saw the Wodehouse broadcasts as evidence he was a Nazi collaborator. Files released by the National Archives in 1999 showed the Director of Public Prosecutions considered whether he should face a treason charge.
The newly-released documents are on Werner Plack, a former Hollywood film extra turned Nazi propaganda official.
In them, Wodehouse said he was asked, while in the camp, to make the recordings by Plack.
The author, best known for his Jeeves and Wooster stories, had previously lived in the US.
He referred to Plack as "my Hollywood friend" in one letter, while seeming to appear uncertain of his surname to another acquaintance, the files revealed.
"This incident suggests that Wodehouse is not always quite as frank and ingenious [sic] as he pretends," the MI5 report says.
"It also reveals that Wodehouse had had an interview with a Nazi propaganda official prior to his release from internment."
Wodehouse defended his broadcasts to a journalist, saying he thought of himself as American and pointing out that the US was not at war with Germany at the time.
The file adds: "He was worried that they had not told him how much he would be paid for his broadcasts."
Wodehouse was interrogated by MI5 officer Major Edward Cussed in September 1944 after the fall of Paris to the Allies, and said he remembered Mr Plack from Hollywood, where they had occasionally met at parties.
He said he was upset when he heard about the response in Britain to the broadcasts.
"I realised what a hideous mistake I had made and I have been longing for an opportunity ever since of putting myself right," he said.
"I never had any intention of assisting the enemy and I have suffered a great deal of mental pain as a result of my action."
Wodehouse moved to the US in 1945 and later became a citizen, living there until his death in 1975, aged 93.