PC Yvonne Fletcher case: Hague hopes for Libya help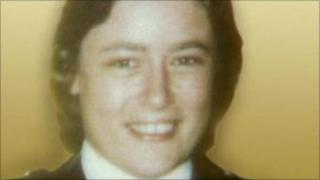 Libya's transitional council has promised to co-operate with the UK police investigation into the death of PC Yvonne Fletcher 27 years ago, Foreign Secretary William Hague says.
It comes after a council member told the Sunday Times a recently identified suspect would not be handed over.
PC Fletcher was shot during a protest at the Libyan embassy in London.
The National Transitional Council is now recognised by Britain as the sole governmental authority for Libya.
The Sunday Times reported that senior Libyan officials would not hand over any suspect.
NTC member Hassan al-Sagheer was quoted by the paper as saying: "Libya has never extradited or handed over its citizens to a foreign country.
"We shall continue with this principle."
On-going investigation
The Sunday Times' report came a day after the Daily Telegraph claimed a report for the Crown Prosecution Service included a witness account claiming the shooter was junior diplomat Abdulmagid Salah Ameri.
Mr Hague told the BBC: "This is an ongoing police investigation so it's quite difficult for me to comment on.
"But I would say that when... [Mustafa Abdul] Jalil, the chairman of the National Transitional Council, was with us in London in May, he committed himself and the council to co-operate fully with the British government on these matters."
He added: "I wouldn't take what has been written in the press today as the last word on the matter."
Former Lib Dem leader Sir Menzies Campbell said he was sceptical that the suspect would be handed over, and felt likewise about Abdelbaset Ali al-Megrahi, the Lockerbie bomber controversially released early from a Scottish prison on health grounds two years ago.
Scottish officials have tried to contact Megrahi following the rebel advance into Tripoli last week.
Megrahi technically remains a Scottish prisoner released on licence and is obliged to remain in regular contact with East Renfrewshire Council.
There have been calls for him to be returned to jail in the UK, including from Deputy Prime Minister Nick Clegg, who said he would like to see Megrahi back behind bars.
The Foreign Office has said it is "ready to help" Scotland Yard detectives investigating Pc Fletcher's death visit Libya as soon as conditions allow.
No-one has ever been charged with PC Fletcher's murder. While the shots that killed her were fired from inside the embassy, the Libyan staff claimed diplomatic immunity and were deported.
Correction 28 August 2011: An earlier version of this story quoted William Hague's statement that there was no extradition treaty with Libya. There is a treaty in place, but Libyan law prohibits the extradition of its own citizens.