Cuts will affect domestic violence jobs benefits - TUC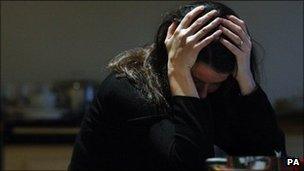 Victims of domestic violence could lose out on unemployment benefits because of spending cuts, trade unions have said.
Under the 2009 Welfare Act due to come into force this year, victims will be able to have up to 24 weeks' payments without the need to look for work.
But the TUC fears charities affected by government savings will be less able to help claimants to provide the required written evidence of their situation.
The Department for Work and Pensions said job centres would assist victims.
The welfare act says victims of domestic violence can claim jobseeker's allowance (JSA) for 13 weeks without being available for work or actively seeking work - these are normally required to qualify for the benefit.
In addition, job centre staff can use their discretion to extend this period of grace by an extra 11 weeks - making a potential total of 24 weeks.
Victims will need their doctor or support organisation to provide written evidence of the abuse.
The Trades Union Congress (TUC) is concerned that groups such as charities, refuges and shelters will not have the resources to aid claimants as a result of reductions in government funding.
The TUC's warning comes in its submission to a government consultation on JSA and domestic violence.
TUC general secretary Brendan Barber said: "The government has paid lip service to the importance of violence against women services, while at the same time forcing many to close their doors or scale back their work due to funding cuts.
"As services are cut and closed, those suffering from domestic violence are left high and dry at a time when they most need support to escape violence and to rebuild their lives.
"Now the government is decreeing that domestic violence victims must produce written evidence from these very same overstretched and hard-pressed services in order to qualify for a key JSA grace period.
"This 13-week time frame will give those who have suffered from violence in the home a vital chance to escape the abuse - which in many cases involves moving to another area and building a new life from scratch - without the pressure of having to find work at the same time.
"By cutting vital support services, and introducing new obstacles and needless red tape, the burden of the cuts is once again falling on some of the most vulnerable people in society. It's clear we're not all in this together."
Nicola Harwin, chief executive of domestic violence charity Women's Aid, said it welcomed the grace period contained in the act but shared the TUC's concerns.
"This year we have seen severe funding cuts affecting many domestic violence services and those that remain are likely to be running with fewer services and a reduced number of staff," she said.
"Not only does this mean that fewer abused women and children will be able to access local services but there are less staff to work with those that do. In some areas there may be no local services at all.
She added: "Leaving an abusive relationship is already an extremely difficult time without adding in these additional pressures and barriers to getting free from abuse."
A Department for Work and Pensions spokesman said: "We are committed to protecting people who are victims of domestic violence, which is why we are ensuring a period of unconditional financial support through jobseeker's allowance at a time when it is needed the most.
"Trained staff are on hand at Jobcentre Plus to help vulnerable people who are affected by domestic abuse."
Related Internet Links
The BBC is not responsible for the content of external sites.