Fly-tipping 'costs taxpayers £40m a year'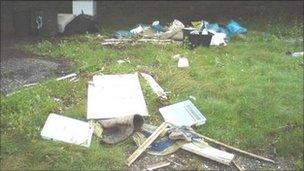 Fly-tipping in England and Wales cost councils £40m in 2010 but only £692,000 was raised in fines, figures suggest.
Statistics, obtained by the Countryside Alliance under the Freedom of Information Act, say 75 fly-tipping incidents occurred every hour.
The figures say there were 656,000 fly-tipping incidents last year but only 50 led to prosecutions.
The government said it was introducing powers to seize offenders' vehicles and also considering other new penalties.
Alice Barnard, chief executive of the Countryside Alliance, said: "Fly-tipping blights our countryside - ruining the beautiful views for which Britain is rightly famous, endangering wildlife and habitats, and costing the taxpayer millions of pounds to clear up."
She said the coalition government had made a "promising start" by publishing its waste review but added: "They need to work closer with cash-strapped local authorities to tackle this blight.
"By raising the landfill tax in the Budget and with more cuts coming to council budgets, this problem is only going to get worse."
Four-fifths of local councils responded to the survey by the Countryside Alliance, which showed a fall in fly-tipping since 2006-07 when 2.5 million incidents cost taxpayers £100m.
The Countryside Alliance said a trend towards fortnightly rubbish collections could lead to the illegal dumping of more waste.
The research found local authorities and the Environment Agency carried out 386,010 enforcement actions, including handing out on-the-spot fines but prosecuted in only 11,972 cases.
Ms Barnard said: "Fly-tipping is a crime that perpetrators can get away with. We need a co-ordinated plan which ensures that people who fly-tip are caught and punished, and provides greater support to local authorities and landowners who bear the brunt of the cost of clearing up the mess."
A Department for Environment, Food and Rural Affairs spokeswoman (Defra) said: "Fly-tipping is inexcusable - it's lazy, causes pollution, costs taxpayers millions of pounds a year to clear up and spoils people's enjoyment of our iconic countryside.
"We're cracking down on these irresponsible criminals by introducing appropriate powers to seize vehicles, and looking at other penalties, which might include offenders taking part in clean-ups."
Related Internet Links
The BBC is not responsible for the content of external sites.