British cadet dies after California skydiving accident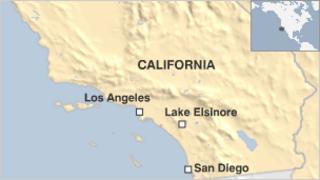 A military cadet from the UK has died in hospital following a skydiving accident in California.
Henry Whitworth, 22, and another cadet were critically injured in the incident at the Lake Elsinore Parachute Center in southern California on Friday.
Mr Whitworth, a member of the University of London Officers Training Corps, died in hospital on Monday.
The Ministry of Defence has launched an investigation into what happened.
Katharine Keith, communications officer for the British Consulate-General in Los Angeles, said: "Two British officer cadets were involved in a parachuting accident during adventure training at Lake Elsinore Parachute Center on Friday.
"Sadly one of the officer cadets has died from his injuries - he died on Monday. The other officer cadet is in a serious condition in hospital. His family are with him and they have our support."
'Safe environment'
On its website, the parachuting company Skydive Elsinore, established in 1959, says it is "the longest running skydiving operation in North America, celebrating its 40th anniversary in 1999".
It also says it is "in full support of military parachute operations and training".
"Skydive Elsinore operates all kinds of military training on site, in the safest environment around," the website states.
It says the pilots on its staff have flown numerous groups including the British army and RAF, the US Air Force, Navy Seals and US Army.