Newspaper review: 'Illegal' traveller sites in focus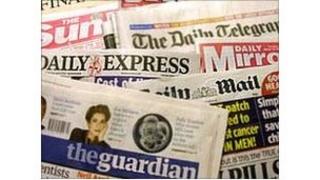 Several of Thursday's papers consider the issue of "illegal" traveller sites.
Hundreds of anarchists and student protesters are - the Daily Mail reports - planning to join the battle against the bulldozing of an illegal traveller camp in Basildon, Essex.
The Independent believes it's "time to forge a compromise". .
But according to the Daily Express, every community should be made to obey the law and the illegal encampment must be dismantled.
'Frankenburger'
The Guardian's front page says the Gurkhas and the RAF will bear the brunt of defence cuts being announced.
The paper says infantrymen from the Nepalese brigade make up most of those selected for compulsory redundancy.
Scientists are salivating over the prospect of the world's first test-tube burger, according to the Mail.
Dutch scientists believe they will be able to produce what the newspaper calls the "frankenburger" within a year, from synthetic meat.
'Volcanic' Brown
Nearly all of the papers have extracts from the memoirs of the former Labour Chancellor Alistair Darling.
The Daily Mail reports he says Ed Balls helped to run a "shadow" Treasury on behalf of a "volcanic" Gordon Brown.
"Revenge," says the Sun says in an editorial, "is a dish best served cold - and Alistair Darling has had his in the fridge for 15 months".
He paints the former prime minister as a bullying control freak - "but we knew that", it says.
'Bolt from the bleu'
The Independent says a tobacco company is seeking to force a university to reveal details of its research into teenagers' smoking habits.
Philip Morris International is trying to gain access to the University of Stirling's interviews with thousands of children aged between 11 and 16.
Several papers have a stunning picture of what appears to be the Eiffel Tower being struck by fork lightning.
The Mail calls it "a bolt from the bleu".