England riots: Court appearance total rises above 1,500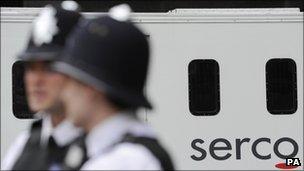 More than 1,500 people have now appeared in court in connection with the riots in London and other English cities, the latest figures show.
Most of the accused who came before magistrates have been remanded in custody, the Ministry of Justice said.
The majority of charges have been brought in London, with further cases in Greater Manchester, the West Midlands, Merseyside and Nottingham.
During the riots, shops were looted, buildings burned and five people died.
According to the official figures, 1,566 people have now appeared before magistrates charged with involvement in the disturbances, from 6-9 August.
About a fifth were youths, aged 10 to 17, and 91% were male.
Many of the cases, which mostly relate to burglary, theft and violent disorder, have been referred up to the Crown Court, which is able to impose stiffer sentences.
A total of 860 (66%) of those charged so far have been remanded into immediate custody, with 443 remanded on bail.
A Ministry of Justice spokesman said: "We are doing everything necessary to ensure those who turned on their own communities face justice quickly.
"Everyone involved with the courts and prison service has put in a huge effort to make that possible and that work will continue."
Most of the cases - 1,027 - have been brought in London, with 190 going before the courts in Greater Manchester.
There have been 132 cases in the West Midlands, while numbers in Merseyside and Nottingham have been smaller, at 67 and 64 respectively.
Related Internet Links
The BBC is not responsible for the content of external sites.