Spanish police 'break UK drugs gang' in Ibiza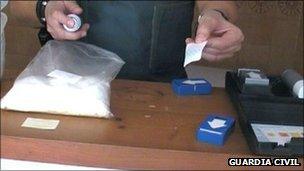 Spanish police say they have broken up the largest gang of British drugs traffickers on Ibiza, involved in supply to the island during the summer.
Some 3,600 ecstasy pills were seized which officers say appear to be the type linked to the death of a British woman on Ibiza in July.
Thirteen people were arrested including 10 from the UK and two from the Republic of Ireland.
Also found were 69,000 euros (£60,000), cocaine and ecstasy crystals.
The UK's Serious Organised Crime Agency (Soca) was also involved in the investigation.
A Soca spokesman said: "Those arrested are suspected members of an organised crime gang responsible for a significant amount of drugs being sold on the island."
Police said the trafficking group were supplied from the UK and went to Ibiza specifically for the summer season to supply the huge demand for drugs, a pattern which happened every year.
The Spanish Guardia Civil's central operational unit searched eight properties, three in Sant Josep de sa Talaia and five in San Antonio de Portmany.
The operation led to drugs and equipment, such as precision scales, being seized.
Police said the majority of the pills found were branded as Pink Rock Star, similar to those believed to have caused the death of a young British woman and the poisoning of eight other people in Ibiza in July.
Officers in Spain have said the death of Jodie Nieman, 20, from Croydon, south London, was "almost certainly" caused by drugs.
Miss Nieman suffered a heart attack after a night out at the Space club in the Playa d'en Bossa resort in the south-east of the island.
A spokesman for the Guardia Civil said: "The detainees are members of one of the most active gangs on the island which is the main supplier of cocaine and other designer drugs around the clubs and bars.
"Inquiries were carried out on the basis of intelligence obtained by the Guardia Civil after other gangs involved in drugs trafficking on the island were dismantled. The majority of these gangs were British and took advantage of the influx of young people during the summer.
"Inquiries found that the gang, which is now dismantled, only travelled to Ibiza in summer as to meet the large demand for drugs on the island during this period."
Those from the UK who were arrested, all men, were from places including Plymouth, Croydon, Liverpool, Manchester and Antrim. The other person arrested was Polish.
In a simultaneous raid, 60 suspected drugs traffickers, most of them Italian and thought to be linked to the Camorra crime organisation, were arrested. Some 19,500 ecstasy pills and other drugs were seized as well as 21,000 euros (£18,500) in cash.
Related Internet Links
The BBC is not responsible for the content of external sites.