Newspaper review: Focus remains on armed forces cuts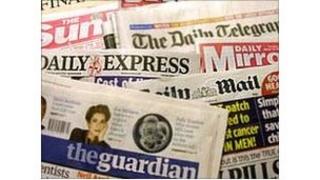 Several papers focus on the fall-out of the cuts to the Armed Forces, after nearly 2,000 RAF and Army personnel were told they were being made redundant on Thursday.
The Daily Mirror calls the prime minister "two-faced" for praising Britain's troops, and then sending almost 2,000 of them redundancy notices.
A Peter Brookes cartoon in the Times shows David Cameron awarding an RAF officer a medal for distinguished service over Libya - but the medal is marked P45.
The Daily Star says the cuts "will leave us barely able to defend ourselves".
'Back in charge'
The Daily Mail enthusiastically welcomes the decision by Education Secretary Michael Gove to loosen rules on the use of physical force in schools.
"At last! Teacher is back in charge," is its front page headline.
"Hey teacher," says the Sun, "Don't leave those kids alone."
The Daily Express is also pleased with the announcement, saying that Mr Gove has "correctly diagnosed that an orderly school is highly likely to be a successful one".
'Arrogant and stupid'
Several of the papers have more leaks from the forthcoming memoirs of the former Chancellor Alistair Darling.
In an editorial, the Independent says that his critique of bankers as "arrogant and stupid" still applies.
The paper sees no need to delay reforms to the banks, saying uncertainty and instability in the markets make it even more urgent for reform.
It is a view echoed in the Financial Times, which describes the reasons for delay as "poor".
'Turkey not peacock'
Madonna is pictured on the front pages of the Guardian and the Daily Telegraph, attending the Venice Film Festival for the world premier of her lavish royal drama, W.E.
Reviews of the film differ greatly.
David Gritten in the Telegraph thinks it's "rather better than expected" in spite of being "a strange concoction".
The Guardian's Xan Brooks believes the film is a "turkey that dreamed it was a peacock", and that it's "more risible than anyone had any right to expect".