Baha Mousa inquiry reveals uncomfortable truths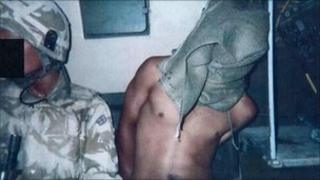 An Iraqi man lies dead in the toilet of a makeshift detention facility in Basra on 15 September 2003.
Another has been so badly beaten he needs hospital treatment for acute kidney failure. Eight others are battered and bruised, some lying in their own waste.
And already, the soldiers involved are closing ranks, attempting to cover up the crime.
The inquiry's report into Baha Mousa's death comes almost eight years after he died of asphyxiation while held prisoner by soldiers from The Queen's Lancashire Regiment.
An autopsy found he had 93 separate injuries, including a broken nose and fractured ribs. His father, Daoud Mousa, told the inquiry he broke down when he saw the body. "I still cannot bear to think about what I saw," he said.
The inquiry - which has cost £12m - took testimony from nearly 400 witnesses, including the surviving detainees, soldiers, and former Defence Secretary Geoff Hoon.
Stress positions
It heard disturbing details of the last hours of Baha Mousa's life. One of the Iraqi witnesses heard him pleading to be left alone, saying: "I'm going to die." A soldier said Cpl Donald Payne had smashed Baha Mousa's head against a wall.
At a court martial of soldiers alleged to have been involved in Baha Mousa's death, which ended in 2007, Payne became Britain's first war criminal when he pleaded guilty to inhumane treatment. He served a year in prison and is the only person to be punished for what happened to Baha Mousa.
However, he told the inquiry that all members of the unit guarding the detainees had kicked and punched them, including an officer.
The inquiry heard that Payne had conducted a "choir" of the screams of the detainees.
"Towards the end of the second day they were all in so much pain that he only had to poke them to get them to make a noise," said former soldier Gareth Aspinall. "Cpl Payne found this funny and when visitors came across they also found it funny."
The detainees had been subjected to "conditioning techniques" including hooding and stress positions, which were banned by the government of Ted Heath in 1972, following allegations of the abuse of IRA suspects in Northern Ireland.
Major Michael Peebles, an intelligence officer, admitted that he had instructed the soldiers guarding Baha Mousa to start using conditioning techniques which he said he believed, at the time, were lawful. He remembered telling the guards: "Don't go over the top."
Of course, it was not the conditioning techniques themselves that killed Baha Mousa. It was the brutality of soldiers enforcing the stress positions. And the Ministry of Defence always argued that his death was the work of a few bad apples.
But putting detainees in stress positions inevitably involves coercion.
Ban confusion
So how were the techniques - which are used to "soften up" prisoners and contravene international law - allowed to resurface in Iraq?
"There are some incredibly troubling systemic issues which the nation needs to face up to," says Phil Shiner, the lawyer who fought a long legal battle for the inquiry.
"How did it come about that intelligence units were using techniques that were banned in the 1970s - food and water deprivation, stress positions, hooding and the use of noise?"
It emerged that the ban was never made explicit in British army guidance on prisoner of war handling. A four-star general was not aware of the Heath ruling. Nor was Adam Ingram, the former armed forces minister.
A major focus of the inquiry was the practice of hooding detainees with hessian sacks. Baha Mousa had been hooded for 23 hours and 40 minutes of the 36 hours in which he was held in British custody before he died.
The Red Cross had already complained about the use of hooding in spring 2003.
And by May 2003, Maj Gen Robin Brims had issued a verbal order for the practice to stop. But the inquiry heard that the practice re-emerged even after Baha Mousa's death.
'Culture of violence'
The commanding officer of the Queen's Lancashire Regiment, Col Jorge Mendonca, told the inquiry he never considered that putting a hood on a detainee might be inhumane.
He also denied that there had been a "culture of casual violence" in his regiment, although the inquiry heard that, entirely separate from Baha Mousa's death, one Iraqi had both his wrists broken in detention and a 12-year-old, who had thrown a stone, was kicked in the head.
Col Mendonca was cleared of negligence at the court martial into Baha Mousa's death, which failed to find anyone specifically responsible for the killing.
"There are important issues of individual criminal behaviour which have never been dealt with," says Mr Shiner. "It's very important that people are brought to book."
In closing submissions for the detainees, their lawyers argued that it was not only those who took part in the abuse of the detainees who should take moral responsibility: "It was also those who were prepared to look on, turn a blind eye or ask no questions.
"From the chain of command to the medical staff and even to the padre, no one was prepared to speak up for what was right and report what was wrong."
The Baha Mousa inquiry is the first public examination of British military conduct in Iraq, but it will not be the last.
A second public inquiry into allegations that Iraqis were mistreated and unlawfully killed by British troops following a fierce firefight in 2004, known to British soldiers as the battle of Danny Boy, is due to open in the next few months.
'Lessons learned'
The Ministry of Defence had to agree to the inquiry after it was criticised in the High Court for failing to disclose internal army documents. They show that a Red Cross doctor believed that the facial injuries to the prisoners suggested the Iraqis had either been held down or were defenceless.
Mr Shiner is also pushing through the courts for a third public inquiry into Britain's entire detention policy in Iraq. He says he has amassed allegations from more than 140 Iraqis of coercive interrogation techniques, including hooding, sleep deprivation, electric shocks and enforced nakedness.
Clive Baldwin, of Human Rights Watch, says: "This abuse wasn't just the result of a few bad apples. And there needs to be an acknowledgement of the scale of what happened in Iraq."
He also argues that the system of military justice needs to be overhauled.
"The Baha Mousa case is a clear example of military justice failing. There needs to be fully independent policing of the military in these circumstances."
The Ministry of Defence says that the vast majority of more than 100,000 service personnel who served in Iraq "conducted themselves with extraordinary courage, professionalism and decency in very demanding circumstances".
But it acknowledges that the death of Baha Mousa was "shameful and inexcusable" and says that "lessons have been learned".