Newspaper review: Libyan torture inquiry dominates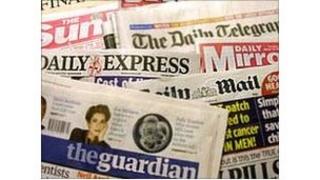 The controversy over Britain's alleged involvement in the forcible repatriation of a Libyan terror suspect features in most of the papers.
Abdel Hakim Belhadj tells the Times "Britain has things to answer" while the Mail says he plans to sue Britain.
The Financial Times says it is crucial to establish the truth of, and full political accountability for, what has or has not been done.
Meanwhile, the Guardian says it wants a "proper judicial inquiry" into the affair.
'Too many hospitals'
The Daily Telegraph says David Cameron may overrule Vince Cable by diluting a new European Union employment law.
The paper says the prime minister's office secretly commissioned its own legal advice on the Agency Workers Directive.
The Independent says a leading health think tank has said more hospital closures are "essential".
It quotes the King's Fund which says too many hospitals provide too many of the same services.
Cheapest fare
Several newspapers report that one in four railway ticket offices in England and Wales could close, with the loss of 1,000 jobs, under new proposals.
According to the Mirror, a list of 675 stations that could be left unstaffed was "buried" in the small print of a government-commissioned report on savings in the railway industry.
The Telegraph says passenger groups fear that stations without ticket offices will be less secure and ticket vending machines do not always offer the cheapest fare available.
Squatters
The Sun and Mirror are calling for the winner of ITV's Red or Black gameshow to be stripped of his £1m prize after it emerged that he had been jailed for hitting his former girlfriend.
The Sun is calling for the show's producer Simon Cowell to act.
Meanwhile the Express says a judge has sparked "fury" by saying squatters are good for Britain.
The comments were made after Judge Fiona Henderson told a council to make public a list of its empty homes.