Newspaper review: Mixed messages for Labour's Ed Miliband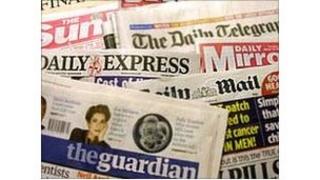 Both good and bad news for Ed Miliband in today's papers as the Labour leader gears up for his party's conference in Liverpool later this month.
The Times leads with a poll that finds nearly two-thirds of voters cannot imagine him becoming prime minister.
Among Labour supporters, half say they cannot see him running the country.
The Sun however praises his courage for addressing a hostile TUC conference yesterday, with the Guardian saying he told some home truths with finesse.
The Mail's lead is that London Tube drivers are to be get up to £1,800 for working during the Olympics, amid fears they could go on strike.
But the paper says it understands that astonishingly, the deal does not even include a no-strike clause.
A story that is in several papers - and is leading the Express - is that a vitamin pill costing 10p a day could prevent millions being affected by Alzheimer's.
It says a vitamin B formula has been shown to slow mental decline.
There is no sympathy for MPs upset that boundary changes could lose them their seat - the Independent says fewer MPs is a good thing and would save cash.
The Guardian says that the Commons' 650 MPs is too many, while it also agrees with the Mail that ministers should face a cut in numbers.
On a different note, the Sun reports on a woman who's kept every text message she has received since 1999.
It says the 100,000 texts, filling 30 journals, will be published as a book.
Huge crowds at the opening of the Westfield shopping centre in Stratford, east London, also impress many of the newspapers.
They seemed oblivious to the economic downturn, reports the Telegraph, with the Mirror saying shoppers seemed desperate to splash their cash.
The Times notes that the centre began trading on a day when a rise in inflation underscored the fiercest squeeze on income in a generation.
The Mail adds it all confirms the UK national sport is definitely shopping.