Metropolitan police hospitality revealed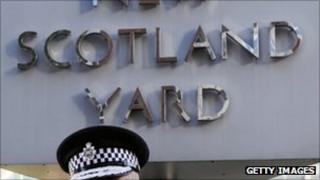 Tickets to sports events, dinners and Christmas parties were among hospitality accepted by senior Met Police officers, documents show.
Details from April 2008 to June 2011 have been published for the first time.
Assistant Commissioner Ian McPherson resigned on the day the information was released, but Scotland Yard said his departure was not related to expenses.
After 32 years in the police service, he said he was moving to work in the private sector.
Wimbledon and Chequers
The police hospitality register reveals all gifts given to the management board of the Metropolitan Police Service, the Association of Chief Police Officers and senior pay grade staff.
Among gifts accepted were coins, books, plaques from other police forces, invitations to numerous lunches, dinners, award ceremonies, and garden parties.
Mr McPherson accepted invitations to rugby games at Twickenham, championship tennis and Royal Ascot.
He also accepted tickets to the BBC Proms, a train fare between London and Birmingham, and a hotel stay in 2010.
Scotland Yard said: "Assistant Commissioner McPherson is not leaving due to any issue with gifts, hospitality or expenses."
The chairman of the Metropolitan Police Authority, Kit Malthouse, said: "I received Ian's retirement notice with a heavy heart. His time at Territorial Policing has been one of quiet revolution and clear focus that has paid significant dividends in crime reduction and value for money."
Mr McPherson said he was retiring from the Met at the end of this year "in order to pursue opportunities in the private sector".
Among other hospitality details, former Commissioner Sir Ian Blair accepted an invitation to the Wimbledon men's singles final in 2008, the Conservative Party summer party, and a working lunch at Chequers with then Prime Minister Tony Blair.
In 2009, then Deputy Commissioner Sir Paul Stephenson accepted hospitality from journalists, including the Times, the Sun, the News of the World, and the Daily Mirror, and many invitations to Christmas parties.
It also lists, under March 2011, Sir Paul's five-week stay at luxury health resort Champneys to recuperate after an operation.
It says this was "provided by a friend through Sir Paul's family and not in connection with the Office of the Commissioner."
By 2011 he had become commissioner, but he quit the Met in July amid the phone-hacking scandal surrounding the News of the World.
He was criticised for his links to former News of the World deputy editor Neil Wallis, who was arrested in July 2011 on suspicion of conspiring to intercept communications.
Mr Wallis had worked as a consultant for the police from October 2009 until September 2010 and had also been working as a public relations consultant for Champneys spa when Sir Paul recuperated there, although the Met said Sir Paul had been unaware of this.
Call for transparency
Assistant Commissioner John Yates also accepted a desk clock, ceramic disk, cufflinks, a letter opener and two badges from the FBI and US Diplomatic Security Service officials while on an official working visit to the US.
He went to dinners, lunches, receptions, and a tennis match in order to view security for a live game during Wimbledon in 2009.
That same year he went to see England and Australia play in cricket's Ashes as part of a liaison event for law enforcement officials, provided by the Australia High Commission.
The publication of the hospitality register was welcomed by Jenny Jones, a London Assembly member for the Green Party, who has campaigned for its disclosure.
"It's been so blindingly obvious for such a long time, and this is one small step towards complete transparency," she said.
"We have had senior police officers accepting some very expensive gifts. We have to look at the whole process, and they shouldn't really accept anything."
She added: "There's no such thing as a free lunch, and for a police officer to be in someone's debt is a dangerous thing."