Major mining disasters in Britain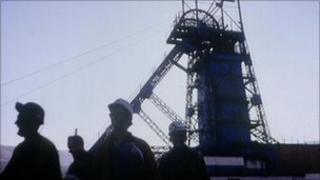 The death of four miners in a Swansea Valley mine is the latest tragedy in a once notoriously dangerous industry.
Almost a century ago the worst mining disaster in UK history occurred, killing 439 men and boys working in Senghenydd, Glamorgan in 1913. A gas explosion wrecked the mine.
It took the unwanted title of worst disaster nearly half a century after the previous worst disaster - at Oaks Pit, in Barnsley, Yorkshire, on 12 December, 1866, when 361 workers died in two separate explosions.
Other major disasters include the deaths of 295 men at the Albion Colliery in Cilfynydd, Glamorgan, in a gas explosion in 1894.
At the Prince of Wales Colliery, in Abercarn, Monmouthshire, an explosion in September 1878 killed 270 men and boys out of the 350 who had began their shift that day.
Borehole deliveries
The worst mining accident in Scotland was in 1877 when an explosion rocked the Blantyre mine in Lanarkshire, killing 209 men.
According to The Coal Mining History Resource Centre, it happened two minutes after the daily routine inspection by two firemen and another official had found everything in order.
Records from the early part of the last century century show that there were accidents every year or so.
One of the more unusual ones was at Egremont Mines, in Cumberland, in 1913. Although there was not a high death toll, its claim to fame is the length of time the survivors spent underground - five days - and the use of a borehole to keep them alive.
Water flooded the mine, drowning one man as he tried to escape. But two others managed to scramble to an elevated position near a borehole, down which they were lowered food and drink - and even a shamrock on St Patrick's Day by their priest - while a rescue operation was planned.
Methane explosion
One of the most recent accidents was in March 1979 in Golborne Colliery, near Wigan in Lancashire. Three men were killed when a fireball shot 200 yards (180m) along a tunnel.
The explosion was caused by a build-up of methane gas which somehow ignited 1,800ft (550m) underground.
In 1993, three men were killed when a section of roof fell down at Bilsthorpe Colliery in Nottinghamshire.
That accident - 18 years ago - was the last significant mining disaster in Britain before events took a tragic turn at Gleision Colliery near Cilybebyll, Pontardawe.
With so few mines still operating in the UK, most accidents take place in developing countries with questionable safety records, particularly China.
However, two Scottish men were among 29 miners killed in the Pike River Mine explosions in New Zealand in 2010.