Newspaper review: Fears over global economy examined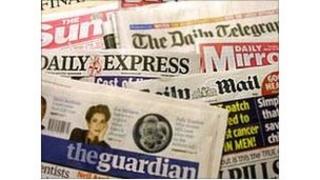 The International Monetary Fund's stark warning on the state of the global economy makes several front pages.
The Times carries a picture of Italian Prime Minister Silvio Berlusconi holding his hands together as if in prayer.
World leaders remain more interested in "polite fictions than grim realities", according to the Guardian's assessment.
While the Independent says UK Chancellor George Osborne has been warned austerity measures might have to be scaled down, to prevent the recovery being stifled.
'90% mortgages'
The Daily Mail likens the Lib Dems to "flat-Earthers, clinging to long-disproved theories" ahead of Nick Clegg's speech at the party conference.
It criticises policies on the euro, the Human Rights Act, and employment law.
But the Times thinks it has seen signs during the conference of casting off "the mantle of a losing party".
The Daily Express has a housing story predicting buyers will once again be able to take advantage of 90% mortgages - along with low interest rates.
New travellers' site
The Daily Telegraph tells us PM David Cameron has written to the National Trust to give "reassurances" over plans to reform the planning system.
Travellers from Dale Farm encampment in Essex have moved to an illegal new site in Luton, according to the Sun.
It says residents "watched appalled" as a makeshift camp sprang up.
And the Times reports that in India, where 43% of children are malnourished, there has been a big rise in obesity among business and political leaders.
Space station
The Financial Times reports on China's space programme - with a front-page picture of a rocket due to be launched in the Gobi desert next week.
It says they plan to build a space station that could be complete by 2020.
"A rubber-burning U-turn" is how the Guardian describes the Met's decision to drop its bid to force the paper to reveal its sources on hacking stories.
Finally, the Daily Telegraph is pleased a litter of baby red squirrels blown out of a tree in storms is thriving.