Imran Khan calls for Britain to cut aid to Pakistan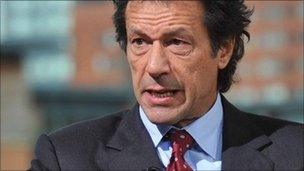 Pakistani opposition politician Imran Khan has urged the UK to cut aid to his country, saying it fuels corruption.
The former cricketer told BBC Radio 4 that Pakistan was more poverty-stricken than ever but little international aid money reached its intended target.
International Development Secretary Andrew Mitchell said Britain did not directly fund Pakistan's government and aid would help millions of children.
The World Vision UK aid agency said Mr Khan was wrong to say aid had not helped the people of Pakistan.
Mr Khan, leader of the Pakistan Movement for Justice (Pakistan Tehreek-e-Insaf) party, said aid money propped up corrupt governments and that reforms were what would save Pakistan.
"If we don't have aid we will be forced to make reforms and stand on our own feet," he said.
"Unfortunately, aid has been a curse for Pakistan. Total aid is about $20bn (£13bn). This $20bn is not helping the people of Pakistan."
The Department for International Development has linked aid increases to Islamabad's progress on reform.
Last week, Mr Khan told the BBC that Pakistan should also not accept aid from the US. He said the US should trust Pakistan to find a solution to the terrorism situation on its own.
He earlier said the "unwinnable war" in the region would never be settled militarily and that the answer lay in "political settlement".
But Justin Byworth, chief executive of World Vision UK, said Pakistanis had been greatly helped by foreign aid over the past two decades.
He said: "Over the past 20 years, I've seen first-hand the effectiveness of aid which is why I can barely believe Mr Khan's comments.
"To suggest that aid is not helping the people of Pakistan is not only misleading but breeds a culture of mistrust.
"The UK public invests a great deal of confidence in aid agencies to deliver their generous donations to those communities in the developing world who so desperately need it."
International Development Secretary Andrew Mitchell said: "Britain does not directly fund the government of Pakistan.
"Our aid and development programme is going to help up to four million children into school over the next four years and Imran Khan strongly supports that.
"Our programme is linked, however, to reform at federal and provincial levels in Pakistan, including in the area of increasing tax revenue".
Following Mr Khan's comments, BBC website readers in Pakistan have written in to express their views.
Ali, from Islamabad, wrote: "It is all a bit predictable for a bored member of the Pakistan's elite to dabble in politics. What could this pampered and spoiled man possibly know about what the poor of Pakistan really need?"
And Rehan Malik, from Karachi, said: "Imran is absolutely correct. Stop sending us money. Leave us alone and stop trying to 'feed' us. We don't need your 'aid'."
Related Internet Links
The BBC is not responsible for the content of external sites.