Sheikh Raed Salah: Profile of pro-Palestinian activist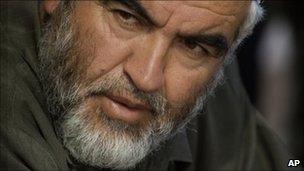 A High Court judge has ruled that Arab activist Sheikh Raed Salah, detained during a visit to the UK on the orders of Home Secretary Theresa May, was held unlawfully and is entitled to damages. But who is he?
Sheikh Salah is a citizen of Israel - he was born in 1958 in the town of Umm al-Fahm, which a decade earlier had become part of the state of Israel when Palestine was divided.
After leaving school he became a founding member of the Islamic Movement in Israel, which is a legal organisation. He is now leader of its northern branch.
In 1989 he stood for Mayor of Umm al-Fahm and won 70% of the votes.
He was re-elected in 1993 and 1997 before standing down in 2001 to concentrate on other Palestinian causes.
Sheikh Salah is a poet and a father of eight children.
He has conducted a number of protests against Israeli policy and has campaigned against the expansion of Israeli settlements in the occupied territories and alleged abuses of Palestinian human rights.
His supporters claim he was shot in the head by Israeli troops in 2000 in an alleged assassination attempt.
In 2002 the Israeli Interior Ministry banned him from travelling abroad.
He organised convoys of buses from the villages in the West Bank to "show solidarity with the inhabitants of the Old City of Jerusalem".
He has campaigned for Palestinians who fled their homes in 1948 to be able to return and in 2008, on the 60th anniversary of the creation of Israel, he insisted: "No retreat from the right of return".
Israel has jailed him for raising money for Hamas, which is a criminal offence in Israel.
In 2009 and 2010 he was banned from entering Jerusalem.
He arrived in the UK on 25 June for a 10-day visit with a number of scheduled public meetings.
Sheikh Salah, whose entry into the UK had been banned on the grounds that his presence was "not conducive to the public good" was detained on 28 June after addressing a meeting in Leicester.
The Home Secretary admitted that border officials had missed several chances to stop him from entering the UK. He has said he was unaware of a ban.
He was given bail on 18 July and is now seeking damages for unlawful detention, as well as appealing against the decision to deport.