Foreign Office changes Kenya travel advice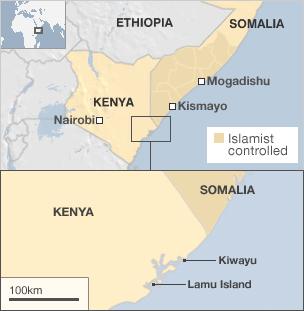 The Foreign Office has changed its travel advice for Britons visiting coastal areas of Kenya near Somalia, following two attacks on westerners.
It advises against all but essential travel to coastal areas within 150km (93 miles) of the Somali border.
Foreign Secretary William Hague said there were "possibly copycat kidnappings" taking place, after a French woman was taken by gunmen.
It came a month after a British woman was kidnapped and her husband killed.
In the first attack, gunmen shot Briton David Tebbutt and kidnapped his wife Judith from Kiwayu.
The Somali government said Mrs Tebbutt, 56, from Hertfordshire, had been taken across the border into Somalia by Islamist insurgent group al-Shabab. It said it was doing everything in its power to gain her release.
Mr Hague told Sky: "Clearly, we are worried about the situation there. There is the case of Mrs Tebbutt that we are trying to deal with as best we can.
"But now we are seeing possibly copycat kidnappings taking place. That is very alarming.
"It is sad, and we are working with the Kenyan authorities and urging them to improve security in any way they can."
The Foreign Office advice states: "We now advise against all but essential travel to within 150km (previously 60km) of the Kenya-Somalia border, including along the coast strip north of Pate Island towards Somali waters.
"Both attacks were on beach-front properties, with two Westerners kidnapped and one murdered. Beach-front accommodation in that area and boats off the coast are vulnerable.
"The advice is kept under constant review in the light of the situation on the ground."
The French woman was kidnapped by an armed gang on Kenya's northern resort island of Manda and also taken to Somalia, Kenyan officials said.
The disabled woman, 66, was attacked at her bungalow at Ras Kitau. Kenya's government said it believed the abductors were also al-Shabab militants.
Somalia has been racked by fighting between various militias for two decades, so weapons are widely available and there are many armed groups who could be responsible.
Correspondents say al-Shabab has not previously seized foreigners far from its own territory, while the numerous pirate gangs normally kidnap ships and their crew for ransom rather than operating on land.
Related Internet Links
The BBC is not responsible for the content of external sites.