How Pakistan cricket betting scam unfolded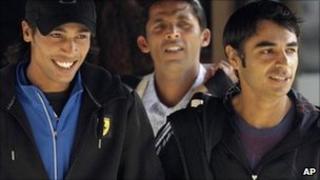 Members of the Pakistan cricket team have been found guilty of participating in a betting scam in a Test match against England.
To spectators, three no-balls delivered by members of the Pakistan team during a Test match against England last year were nothing more than slip-ups by some of the world's most skilful sportsmen.
No-balls are infringements such as when a bowler oversteps the line behind which balls should be delivered.
The errors were, ostensibly, nothing more than a sign that even international cricketers are fallible.
But what most people did not realise was that the no-balls were being bowled deliberately.
The seemingly innocent mistakes lay at the heart of a scandal which has tarnished cricket's reputation.
It later transpired that three of Pakistan's finest cricketers - the then captain Salman Butt, along with Mohammad Amir and Mohammad Asif - were involved in a betting scam known as spot-fixing.
The innocuous nature of a no-ball made it ideal for spot-betting, which sees gamblers stake their money on the minutiae of sporting encounters such as the exact timing of the first throw-in during a football match or, as in this case, when a no-ball will be bowled.
In a quirk of fate, the revelations of corruption in cricket were brought to light by a now defunct newspaper which was closed down after its illegal practices came to light.
The News of the World (NoW), which was the UK's best-selling newspaper, shut earlier this year after it transpired that journalists working for the paper had hacked into mobile phones in the search of stories.
The NoW paid a middleman - cricket agent Mazhar Majeed - for details of three no-balls.
In a sting operation that was secretly filmed by a NoW reporter, Majeed - who represented Amir, Asif and Butt - was seen proposing to arrange for no-balls to be bowled at specific moments in the fourth Test between England and Pakistan at Lord's in 2010.
In return he was seen accepting a payment of £150,000 - a large part of which was never recovered, it later emerged in court.
Majeed also told the NoW reporter that some of the Pakistani cricketers had agreed they would deliberately lose a forthcoming game, the jury at the trial of Butt and Asif heard.
He was caught on tape bragging that he had several Pakistan players in his pocket.
"We've got one result already planned, and that's coming within the next three-and-a-half weeks... Pakistan will lose," the agent said on the tape.
Butt and Asif have now been found guilty of conspiring to accept corrupt payments and a charge of conspiring to cheat after a trial at Southwark Crown Court.
During his defence, Butt said his agent had unsuccessfully tried to persuade him to fix parts of matches.
He said Majeed sent him a series of text messages in which his agent asked him to intentionally lose wickets at last year's Twenty20 World Cup and to score no-runs in an over during the Test against England.
"Never in my whole life have I intended to do anything like that, play a match in a certain way. I always do what is required to the best of my ability," Butt said.
Seeming self-assured and speaking fluent English, the ex-Pakistan cricket captain told the court he felt betrayed after finding that his agent, who he considered to be a friend, had made such a request.
Prosecution barrister Aftab Jafferjee said he could not understand why Butt tolerated Majeed's requests, even though he claimed to have asked his agent to stop them because he did not approve.
"You are lying your head off to this jury aren't you, Mr Butt?" Jafferjee said, to which Butt replied: "No, I'm not."
But he failed to convince the jury.
Perhaps his failure was partly due to his co-defendant, Asif, saying the captain would have had to have been involved in any conspiracy because he knew the order of bowlers.
But, where his involvement was concerned, Asif struggled to provide a convincing explanation for why Majeed called him 59 seconds after leaving the rendezvous with the journalist.
In court, Asif claimed that he bowled a no-ball at the predicted moment because Butt told him to "run faster" moments before his delivery - a claim dismissed by Butt's lawyer as "ludicrous".
Information from secret recordings, text messages and cross-examination offered the jury an insight into the tricks and subterfuge that connected betting syndicates with a sport watched by millions worldwide.
Gambling is illegal in Pakistan and highly restricted in India. Despite this, criminal gangs have set up illegal markets to exploit the recent explosion in satellite television coverage of live cricket from around the world.
In recent years betting syndicates, often with connections in the underworld, are thought to have developed bases in Mumbai, Dubai, Karachi and Delhi before spreading to other Pakistani and Indian cities as well as Kuala Lumpur and Malaysia.
After the spot-fixing allegations first surfaced, Butt, Amir and Asif were given lengthy bans by the sport's governing body, the International Cricket Council (ICC).
An ICC tribunal found them guilty of corruption. Butt received a 10-year ban (five suspended), Asif seven years (two suspended) and Amir five.
Amir, the youngest of the trio and a prodigiously talented bowler, said: "Cricket is the most important thing in my life - I left my studies for cricket. My entire family depends on me and I depend on cricket," the then 18-year-old said, looking glassy-eyed and on the verge of tears in a BBC interview after the ICC ban.
"I will never lose hope. I have never done that in my life and I'll do everything in my power to make a comeback, a strong comeback," he added.
The teenage sensation had been one of the sport's most promising talents, but his career lies in tatters after pleading guilty earlier this year to conspiring to accept corrupt payments and a charge of conspiring to cheat.
His youth means a return for Amir is possible but it seems less likely for his former team-mates, both in their late twenties.
The scandal may have consequences that reach far beyond depriving the game of some of its most talented players.
Integrity questioned
"I don't think it's just been damaging to Pakistan cricket, it's been damaging to cricket full stop", said former England cricketer Angus Fraser.
Some commentators fear that the integrity of cricket, and sportsmen and women in general, may now be called into question.
"No sport wants itself to grab the headlines for these sorts of reasons and whilst it seems a long time ago now, and it would be easy to try and forget it and pretend that it never took place, it would be wrong for the sport to do that," says Nick Tofiluck of the Gambling Commission.
"In the long term, sport is unsustainable if people fundamentally don't believe that it has some integrity about it.
"How are you going to encourage youngsters to engage in sport if all you are promoting is 'This is a way to act illegally'? Then there is no future in that at all."