Abramovich's Russia 'lacked rule of law' in 1990s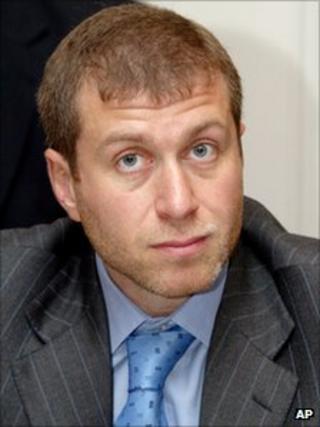 Chelsea Football Club owner Roman Abramovich operated his businesses in a Russian state where the rule of law had disappeared, a court has heard.
His lawyer Jonathan Sumption QC said it was "not easy" for English lawyers to assess those living in "such a world".
Mr Abramovich is being sued by Boris Berezovsky, who alleges breach of trust and breach of contract with regard to Russian oil firm Sibneft.
He denies the claims by his former business partner.
Mr Berezovsky, now exiled in the UK, is claiming more than £3.2bn in damages.
Godfather access
Mr Abramovich, worth an estimated £10.3bn, sold Sibneft to Russia's state-owned gas monopoly Gazprom in a multi billion-dollar deal in 2005.
Mr Berezovsky is claiming Mr Abramovich intimidated him into selling shares in Russian oil company Sibneft at a fraction of their value.
Mr Sumption told Mrs Justice Gloster that "quite extraordinary conditions" prevailed in Russia following the collapse of communism in 1992.
"There was no rule of law," said Mr Sumption. "The police were corrupt.
"The courts were unpredictable at best - at worst open to manipulation by major political or economic interest groups.
"Nobody could go into business without access to political power. If you didn't have political power yourself you needed access to a godfather who did."
Expenses paid
Mr Sumption also told the Commercial Court in London that Mr Berezovsky was paid millions of pounds by businesses controlled by Mr Abramovich for his services as a "political godfather".
He added: "Mr Berezovsky was a highly controversial figure in Russian politics in the 1990s. Boris Berezovsky was a power broker."
And he said between 1995 and 2002 Mr Berezovsky had received $2bn from businesses controlled by Mr Abramovich.
Mr Sumption also said that by the late 1990s Mr Berezovsky's personal expenses - which he said were on an "exuberant scale" - were being met by Mr Abramovich's companies.
These included funding palaces in France, private aircraft, jewellery for his girlfriend and valuable paintings.
The trial, which is expected to last for more than two months, continues.