Archbishop delivers message of hope to Zimbabwe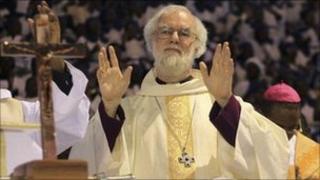 The Archbishop of Canterbury has preached to thousands in Zimbabwe, a country where he has held the president responsible for persecuting Anglicans and where the Church is battling serious divisions.
The Archbishop arrived on a Sunday, by road, travelling almost 150 miles from the Mozambican border into Zimbabwe on a motorcade.
For a man of God, who had requested a meeting with President Robert Mugabe that was still unconfirmed even upon arrival, he cut a figure of a man unwanted by the establishment.
But the irony is that Mr Mugabe's close state security was a permanent feature as walked or drove around the capital, Harare.
Maybe, given Dr Williams' international profile, round-the-clock state security protection was granted.
Church evictions
A police Mercedes flashing blue lights escorted the archbishop, head of the 77-million strong worldwide Anglican Communion, into the city sports centre, and the state security closed in soon after he disembarked, leading him away from the media.
The security set-up maintained a tight presence until Dr Williams sauntered into the sports centre to wild cheers by his restive Anglican communion under siege.
But he arrived after damage had already been inflicted on his community.
Bishop Nolbert Kunonga, a renegade ex-communicated bishop who is a staunch ally of President Mugabe, has evicted pastors and sisters loyal to the recognised Bishop of Harare, Dr Chad Gandiya, from the entire diocese properties around the country.
He has been armed with an interim Supreme Court order, granting him access to the church buildings until the matter has been finalised.
The archbishop's half-hour speech directly addressed this.
Quoting from the scriptures, he said: "You know very well, dear brothers and sisters, what it means to have doors locked in your faces by those who claim the name of Christians and Anglicans.
"You know how those who by their greed and violence have refused the grace of God try to silence your worship and frustrate your witness in the churches and schools and hospitals of this country."
'Door is open for you'
It was meant to be a message of solidarity and support.
This is perhaps what the worshippers expected, to have their spirits uplifted. They have endured years of sermons disrupted and services held under trees and in football pitches.
"Every time we would try to go to our church, the police would come and evict us," said Canon Simba Mabwando, of St Pauls, a church in the Highfield area of Zimbabwe.
"We no longer want any disturbances, we have adopted a football stadium, as our church. God is everywhere, we don't mind."
Away from the sports centre, two sisters evicted from children's home St John's Chikwaka, about 70 miles east of Harare, expressed fear for the health of HIV-positive orphans they were taking care of.
"The [orphans] don't have food, they are very worried," said Sister Agness Makwarimba, who has served the church for over 60 years.
"We were just forced to leave, they accused us of being loyal to Bishop Gandiya."
The predicament of almost 100 orphans in their care mirrors the helplessness of the Anglican Communion in the country. They are dismayed and their faith is being put to test.
The archbishop said in his sermon: "In your faith and endurance, you have kept your eyes on that open door when the doors of your own churches have been shut against you.
"You have discovered that it is not the buildings that make a true church but the spiritual foundations on which your lives are built.
"And as we together give thanks for the open door that God puts before us, we may even find the strength to say to our enemies and persecutors, 'The door is open for you. Accept what God offers and turn away from the death-dealing folly of violence.'"
Election fears
It is such a message of solidarity that the communion so strongly expected - especially with elections beckoning.
After all, the Anglican church issues seem to be anchored in politics, with President Mugabe believed to be taking sides, and the state security apparatus tear-gassing the communion during church services for those allegedly not politically correct.
It seems to have become the norm for elections here to be accompanied by killings on a large scale. But in the face of anger, guns and animosity, the communion was urged to exercise restraint.
"It is on the basis of this vision that we urge all people to say no to violence, especially as the next election approaches in this country; to discover that deep reverence for each person that absolutely forbids us from treating them as if their welfare did not matter, from abusing and attacking them," Dr Williams said.
After years of being tear-gassed, the Anglican Communion here needed someone to talk to, cheer them up and give them hope.
Whether they will rise and shine, they can only hope.