Conservation groups attack government green pledges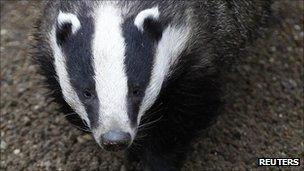 Ministers are failing to keep to most of their promises to help wildlife, leading nature groups have said.
Failures include culling badgers to tackle bovine TB and attempts to sell off publicly-owned forests in England to businesses.
The group of 29 of the UK's leading environmental groups say just two out of 16 key commitments made by the government are being fully met.
These are opposition to commercial whaling and moves to ban ivory sales.
Martin Harper, conservation director of the RSPB, one of the groups involved, says in tough economic times ministers may be tempted to ignore the needs of wildlife.
"But this kind of short-termist attitude won't wash with a British public which expects the government to protect the countryside and wildlife we all hold dear," he said.
Other promises the group says the government has failed to honour include reforming the planning system to give neighbourhoods a greater say and preventing unnecessary building in areas of high flood risk.
Partial success has been achieved in tackle the smuggling and illegal trade in wildlife and making the import or possession of illegal timber a criminal offence, they add.
But a spokesman for the environment department Defra said the government is committed to being the greenest ever.
"The government is working on an ambitious programme of policies to protect and enhance our natural environment and we've made good progress across many areas.
"We're providing new opportunities for local people to play a bigger role in protecting and improving the environment in their areas."