Lord Hunt is new head of Press Complaints Commission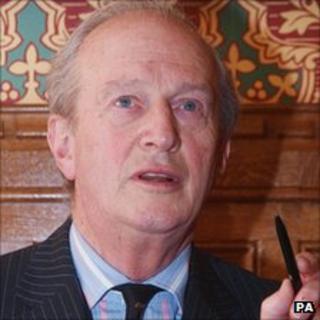 Conservative peer Lord Hunt has been appointed as the new chairman of the Press Complaints Commission (PCC).
The lawyer and former MP succeeds Baroness Peta Buscombe, who stepped down following criticism of the press watchdog for its handling of the News of he World phone-hacking scandal.
Lord Hunt said he would fight for freedom of expression but there was a "real appetite for change".
Lord Leveson's inquiry into phone hacking begins later this year.
Former Cabinet Minister and MP for Wirral and Wirral West, Lord Hunt, is due to take up his role next week.
"I am delighted I shall be leading the crucially important process of wholesale regeneration and renewal of the system of independent self-regulation of the press," said Lord Hunt, who has been a peer since 1997 and is chairman of the financial services division at law firm Beachcroft.
"My job is to ensure we create in due course an effective, genuinely independent standards body, which enjoys the overwhelming respect and support of the media, our political leaders and the general public."
'Toothless poodle'
Baroness Buscombe, 57, who had chaired the watchdog since April 2009, faced a backlash over the scandal, which led to the closure of the News of the World.
In July, Prime Minister David Cameron accused the PCC of being "ineffective and lacking in rigour" and cited the need for a "new system entirely". Labour leader Ed Miliband said the self-regulatory body was a "toothless poodle".
Later that month Baroness Buscombe announced she would step down.
The Leveson phone-hacking inquiry will get under way later this year and the Baroness will aid the investigation as a media regulation expert.
Lord Hunt said: "Throughout my political life I have fought for freedom of expression; and a free press is the distinctive and indispensable hallmark of any truly free, civilised society.
"I have no desire to live in a country where the legitimate, lawful investigative activities of the press are fettered at the whim of politicians.
"That would not be freedom at all."
The PCC was established in 1991 to enforce a code of practice for UK newspaper and magazine publishers and editors.
On Wednesday, Daily Mail editor Paul Dacre said self-regulation was the "only viable way" of policing a free press.
Speaking at a seminar ahead of the start of the Leveson's inquiry, he said although the PCC was "naive" in its investigation of phone hacking, it was unfair to suggest the scandal proved the organisation did not work.