Drug suspects: treat not prosecute say advisers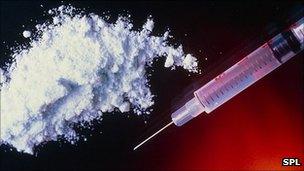 Illegal drug possession should lead to education and treatment programmes. not prosecution, say government advisers.
The Advisory Council on the Misuse of Drugs (ACMD) says drug users could also have their driving licences or passports confiscated.
The call does not amount to de-criminalisation, which ministers have constitently opposed.
But it but would potentially divert thousands of offenders from the criminal justice system.
The council's suggestions come in response to a consultation by the Sentencing Council on the appropriate sentences for drugs offences in England and Wales.
The ACMD says: "There is an opportunity to be more creative in dealing with those who have committed an offence by possession of drugs."
The council says people found to be in possession of drugs for their own personal use should not be processed through the criminal justice system, so long as they have not been involved in other criminal offences.
It says the alternative approach could lead to less repeat offending and cut costs.
It's not the first time the council has made this call.
Last October the same plea was rejected by the Home Office as it was drawing up its drugs strategy, and the offical government position remains unchanged.
A Home Office spokesperson said: "We have no intention of liberalising our drugs laws. Drugs are illegal because they are harmful - they destroy lives and cause untold misery to families and communities.
"We are taking action through tough enforcement, both inland and abroad, alongside introducing temporary banning powers and robust treatment programmes that lead people into drug free recovery."
The Sentencing Council is expected to issue its final guidelines on sentences for drugs offences in January.