Pakistan cricketers' trial: No-balls a 'freak occurrence'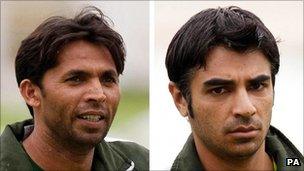 The correct prediction of when no-balls would be bowled by Pakistan players during a Test match against England last year was a "freak occurrence", a corruption trial has heard.
Former Pakistan captain Salman Butt made the claim in a police interview played at Southwark Crown Court.
He had been asked how his agent was able to accurately predict the delivery of no-balls in footage secretly recorded by an undercover journalist.
Mr Butt, 27, denies match fixing.
Prosecutors allege that agent Mazhar Majeed conspired with Mr Butt and bowler Mohammad Asif, 28, to fix parts of the Lord's match last summer.
Both Mr Butt and Mr Asif deny charges of conspiracy to cheat and conspiracy to accept corrupt payments.
The case stems from a sting operation by the former News of the World newspaper which prompted claims that the men accepted bribes to fix parts of the match.
The court heard a transcript of a police interview conducted with Mr Butt last September, shortly after the allegations emerged in the newspaper, in which the former Pakistan captain responded to the suggestion that the predictions made by his agent Mr Majeed were improbable.
"It's a freak occurrence," he told police.
When asked if he had been bribed, he said nobody could influence him to fix any part of a game.
"I play this game for the love of the game and the love of my country," he said.
On Tuesday, the court was told that Mr Majeed asked for $1.2m (£768,000) to arrange for Pakistan to throw the Test match against England.
Mr Majeed, 36, from Croydon, south London, was recorded allegedly discussing deliberately losing last August's game with a contact in India, the court heard.
Related Internet Links
The BBC is not responsible for the content of external sites.