Coronation Street actress Betty Driver dies, aged 91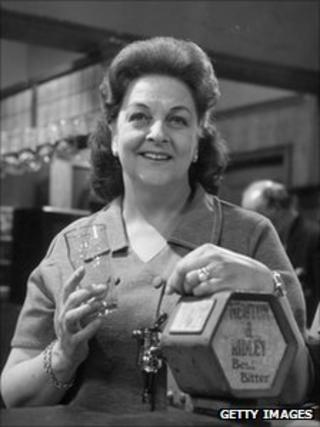 Coronation Street actress Betty Driver, who starred in the soap for more than 40 years, has died at the age of 91.
Former co-star Julie Goodyear described her as "a true icon and legend and a very dear friend". ITV said Driver died peacefully in hospital on Saturday.
Driver joined the ITV show as barmaid Betty Turpin, later Williams, in 1969.
She had already been in showbusiness for more than 40 years, touring the UK as a singer by the age of 12. Driver was appointed an MBE in 1999.
Driver had originally auditioned for the role of Hilda Ogden in 1964 but was later persuaded to come out of retirement to audition for the role of Betty. She appeared in more than 2,800 episodes.
In January 2011 she told the BBC she would never retire. "I just love working and I will never retire - ever - they'll have to shoot me to get rid of me," she said. "I just love people, you see, and I love the cast."
Driver had been in hospital for six weeks. "She will be sadly missed by everyone who knew her," an ITV spokesman said.
'Foundation' of Rovers
Actress Helen Worth, who plays Gail McIntyre in the show, told BBC News that "everybody in the cast loved her from the youngest to the oldest".
"We all thought she'd be there forever, we didn't think this day would come.
"The Rovers won't be the same, that's for sure. The Street were her family and she didn't want to leave it."
William Roache, who plays Ken Barlow in the programme and worked alongside Driver for four decades, said he "loved her dearly".
"She was not only a colleague, she was a friend and godmother to my son James," said Roache.
"She will be missed in the Street but she will be missed more so as a warm and loving person."
Fellow Coronation Street barmaid Julie Goodyear - character Bet Lynch - said Driver was "the very foundation of the Rovers Return".
"It was an honour and a privilege to work with Betty Driver for 25 years. We laughed together, we cried together and never once had a cross word. She was a totally professional actress," she said.
"She will be missed and remembered by millions."
Barbara Knox, who plays Rita Sullivan in the soap, said: "I have lost a very dear friend and the Street has lost a very great character, a professional to her fingertips - she will be greatly missed."
The soap's executive producer Kieran Roberts said Driver was a "wonderful actress and remarkable woman".
"It is humbling to think that the 42 years she spent on Coronation Street was just half of her extraordinary career but Coronation Street certainly benefited when she decided to join our show in 1969," he said.
"For more than four decades she delighted many millions of Coronation Street fans with her fantastic performance in countless great stories both dramatic and comic.
Friend Charles Orr said: "A true legend has left us with enough love and memories to last a lifetime."
Elizabeth Mary Driver was born in Leicester but moved to Manchester when she was just two years old. She described an unhappy childhood with little affection given to her or her younger sister Freda.
At the age of eight she discovered that she could sing and her mother immediately began forcing her to enter talent contests.
When she was just 14 she was given the leading role in the revue, Mr Tower of London, and was spotted by George Formby who cast her in his new film Boots! Boots!
Her scenes as a cabaret singer ended up on the cutting room floor but many years later, the film was re-released on DVD with Driver's scenes restored.
In 1940 Driver became a big band singer and toured extensively with the Entertainments National Service Association (ENSA) appearing in shows for the troops.
After World War II she continued touring and appeared in her own BBC radio show, A Date With Betty, which was broadcast live.
She was cast in a series called Pardon the Expression, a comedy spin-off from Coronation Street, before retiring and then appearing on Coronation Street.
Driver had a seven-year marriage to singer Wally Peterson, which ended in her late 30s.